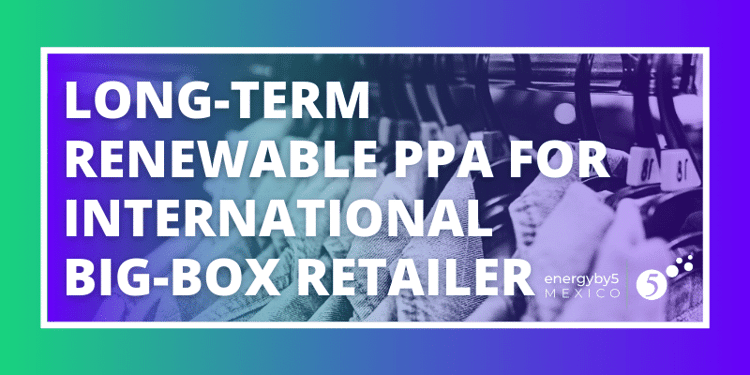 A big-box retailer in Mexico with more than 400 locations was evaluating purchasing options without a centralized strategy or decision-maker for a large electricity load, more than 600,000 MWhs per year. Their inefficiency and confusion, coupled with their inexperience about the regulatory market framework, led the company's CFO to engage 5 to advise the client through their procurement process.

The year-long effort included numerous interviews and educational meetings with the client, the generators, and the Qualified Service Providers. 5's team in Mexico City also conducted a thorough technical and financial analysis of the client's energy consumption and risk profile. Based on the results, a customized strategy was designed to diversify the portfolio and optimize performance. The client signed both a long-term PPA for budget certainty and a short-term Power Purchase Agreement (PPA) for immediate savings. 5 also assisted the client with the coordination and installation of the appropriate metering.

By trusting in the advisory team at 5, the client now has a consolidated and comprehensive approach to electricity purchasing and with improved knowledge of the market dynamics. Furthermore, the client saved more than 30% annually on the first PPA and met their near-term ESG goals with the purchase.

5 is proud to have helped this large retailer, and dozens of other large commercial and industrial clients throughout Mexico, to successfully complete long-term renewable PPAs and solar distributed generation projects.