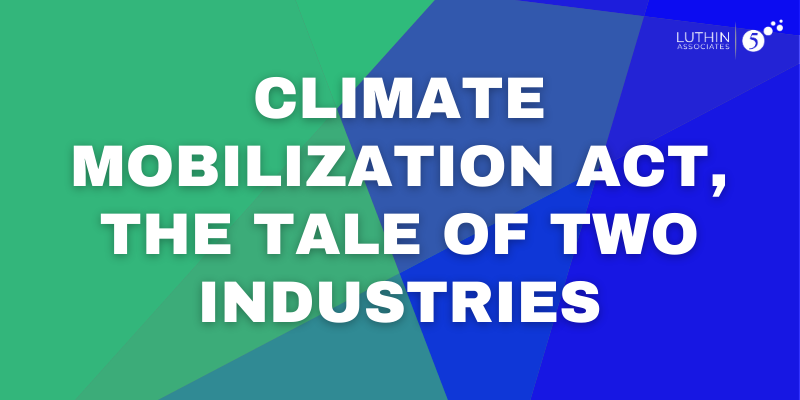 New York City passed a set of laws under the Climate Mobilization Act to transition New York toward clean electricity and drastically lower Greenhouse Gas (GHG) emissions. This new legislation intends to counter the threat of climate change and involves four local laws which require:
LL92 and 94: Mandates that certain existing building roofs must be covered in green roofs or Solar Photovoltaics (PVs), including new construction
LL95: Assigns all buildings an energy efficiency grade
LL96: Establishes a sustainable energy loan program
LL97: Sets annual carbon emission limits for buildings
MORE ABOUT LOCAL LAW 97
Local Law 97 (LL97) exerts an immediate short-term financial impact on many buildings in New York City and presents the greatest scope for improvement. Beginning in 2024, LL97 stipulates a GHG budget for every building over 25,000 square feet and assesses penalties for exceedance. Every affected building is required to submit an annual certificate of its GHG emissions, and pay exceedance penalties, if any. Factors that affect a building's greenhouse gas budget include:
The occupancy classes of the spaces within the building property
The area of the building (in square feet)
The chart below demonstrates carbon penalties for a 100,000 square foot building, with 10,000 tons of annual carbon dioxide emissions from 2024 through 2050. Each bar represents the varying penalties based on the occupancy class.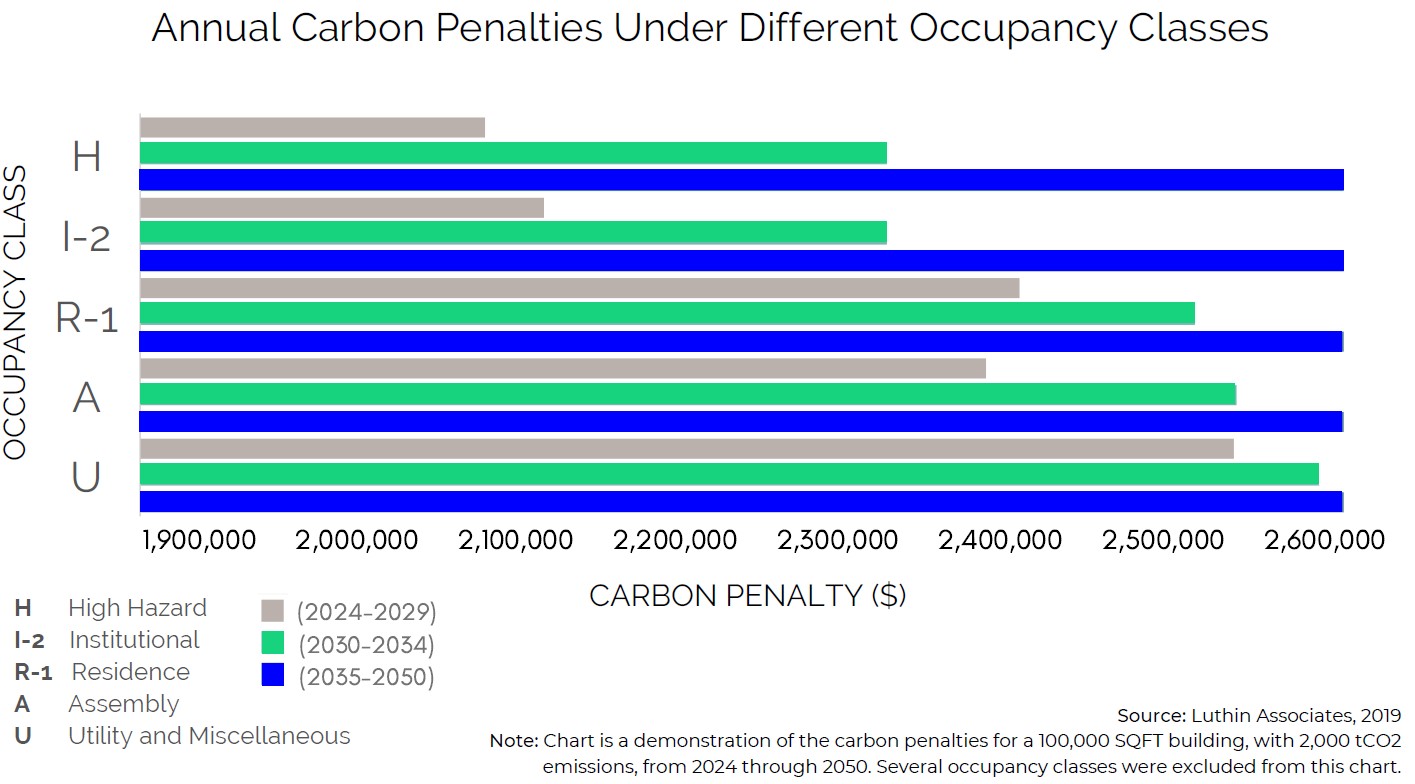 Local Law 97 shields certain buildings with specialty classifications from the full impact of the 'carbon penalty'. The following case studies provide further insight and suggest strategies to navigate this new legislation.
A TALE OF TWO INDUSTRIES
UNIVERSITY
Luthin Associates conducted a study on a large university in New York, based on its historical benchmarking (Local Law 84) filings. EPA's Portfolio Manager assigns each building an occupancy class. The University, in its initial calculations, assigned all buildings the same occupancy class. While this method is a provisional assessment of their facilities' carbon penalties, an accurate estimate would individually assess each building on the merit of its own emissions and occupancy class.
Under Local Law 97, a campus or group of buildings cannot be classified under a single occupancy class. Therefore, it is important not to rely solely on generic carbon calculators and online resources to evaluate buildings. The Climate Mobilization Act, especially LL97, is a complex piece of legislation with many layers. The nuances of this legislation need to be carefully evaluated to avoid steep penalties.
Luthin Associates worked with the University to identify individual buildings' commodity usage and define separate occupancy classes. LL97 requires a more granulated evaluation of an individual building based on the mixed spaces that occupy it (i.e. offices, retail, residence halls, dining, etc.). The chart below outlines the difference between the carbon penalties under a blanket occupancy class compared to individually classified buildings. Drilling down this process and performing a mixed spaces evaluation provides a more accurate assessment of annual penalties.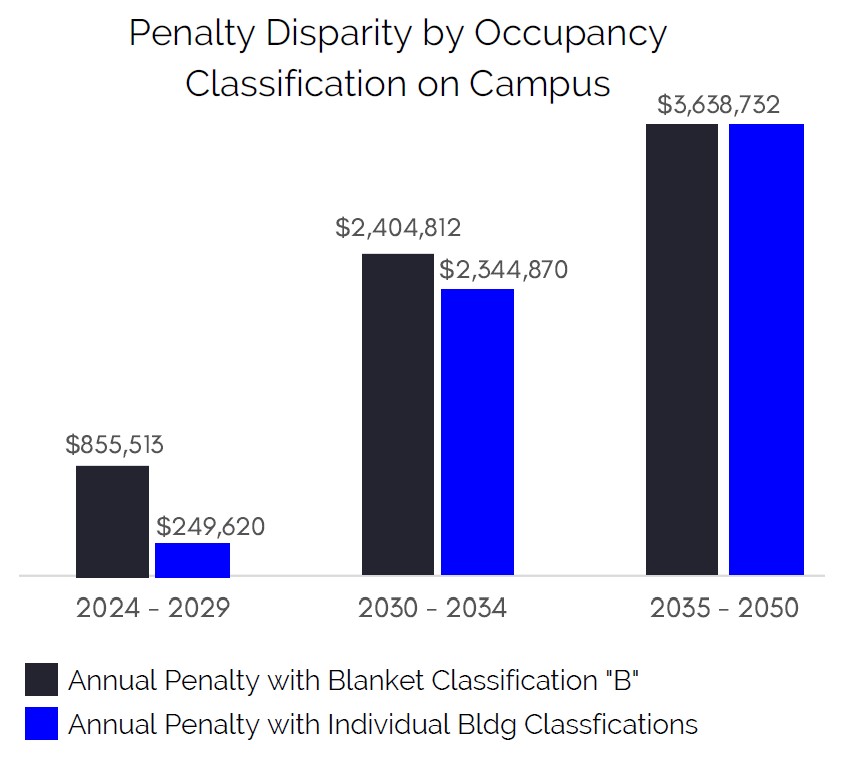 REAL ESTATE
In another case, Luthin Associates worked with a large real estate firm in New York to determine the carbon penalty for a building in their portfolio. This study was part of a broader comparison of the financial feasibility of several peak-shaving technologies on an upcoming project. Through the client's insight, we learned that most of the building space will house biomedical research with 24-hour intensive energy use. This means the building can qualify for a relatively lenient emissions limit, provided the necessary paperwork is filed on time.
Our financial analysis on the carbon impact and utility energy avoidance from the various technologies aid in the decision-making of which energy conservation measures provide the largest impact. These combined efforts help reduce carbon penalties and ensure accurate assessment of project ROI.