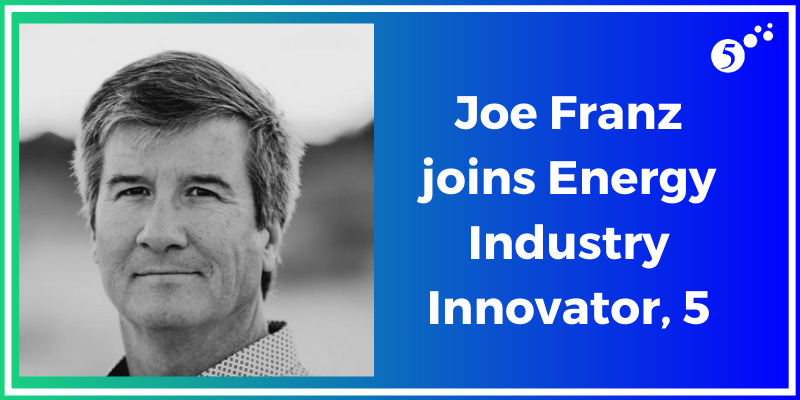 Irving, TX - November 12, 2019
Innovative digital business leader and energy executive Joseph Franz has joined the Irving, Texas-based energy advisory firm 5.Franz will manage 5's digital marketing strategies with a specific focus on growing 5's small commercial business line.
"Joe is an industry expert with few equals when it comes to digital marketing in the deregulated energy space," said CEO Brian Hayduk. "His expertise in building high-yield digital platforms will be invaluable in expanding our value proposition to a class of customers currently under served in the marketplace, small and medium-sized businesses."
Prior to joining 5, Franz worked for Constellation, the largest retail energy supplier in the county, leading strategic digital partnerships and product innovation. He recently built the digital sales channel for residential and commercial customers, which now represents the largest source of new customers for Constellation. Prior to that, Franz lead the product development for Constellation's Commercial and Industrial customer and partner portals. He also helped to launch a platform that integrated demand response pricing with building automation systems, authoring 2 US patents along the way. He started his career working for Green Mountain Power as a senior forecast and load research analyst. In addition, Franz was a product manager at Lodestar, (now part of Oracle) a leading C&I billing and pricing software provider.
"Joining the 5 team allows me the opportunity to function as an entrepreneur, developing new technologies and services to help our Digital partners better engage with businesses to better source energy and improve efficiency," said Franz.
A 3-time National and North American champion speed skater and ESPN Extreme Games athlete, Franz has coached and supported youth speed skaters and served on the board of the Adirondack Speed Skating Club.
Connect with Joe on LinkedIn.