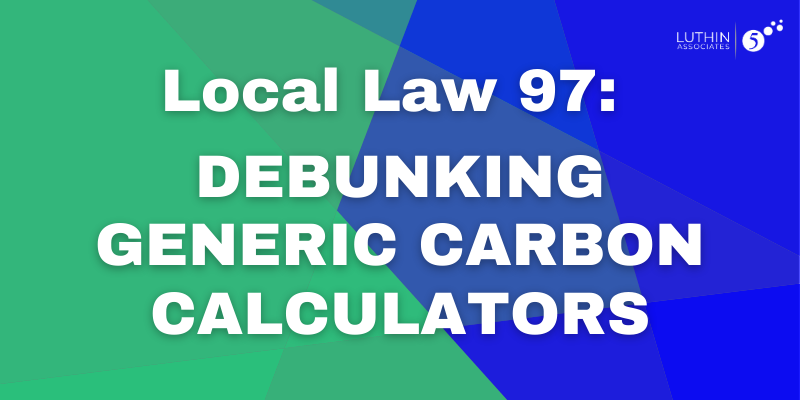 New York City's Climate Mobilization Act, especially Local Law 97, sparked the creation of generic carbon calculators for buildings to assess occupancy class and emission limits. Although intended to be helpful, not all are accurate.
THE CLIMATE MOBILIZATION ACT
Recently, New York City passed the Climate Mobilization Act (CMA), which is an umbrella term for a set of laws designed to transition New York toward clean electricity and drastically lower its Greenhouse Gas (GHG) emissions. The intent of the Climate Mobilization Act is to counter the threat of climate change. One facet of the Climate Mobilization Act is Local Law 97 (LL97). This local law sets annual carbon emissions limits for NYC buildings larger than 25,000 square feet. The CMA, especially LL97, sparked the development of many online calculators to help facilities evaluate their potential carbon penalties. Although at first glance these carbon calculators may seem helpful, many are not as accurate as you might think.
CLASSIFYING BUILDINGS
These online carbon calculators do not always consider the complexities a building may have in terms of type and classification. These calculators often lump a building or group of buildings into a single building classification for simplicity in calculation purposes. For example, colleges and universities may be blanketly categorized under an education classification. However, their actual building composition may be very different. Outside the classroom on campus, colleges and universities have common areas such as dining and residence halls. These areas need to be classified differently depending on the purpose of the given space.

Individual buildings are also not as simple to classify. The purposes of an individual building may vary depending on the entities that occupy the space. There may be a mix of office, retail and residential spaces within a single building.
EXCEPTIONS TO THE CLIMATE MOBILIZATION ACT
Certain exceptions to the Climate Mobilization Act also exist which may impact the extent of carbon penalties issued to a building for exceeding emission limits. Over an initial period, buildings that exceed emissions due to 24-hour operations, high-density occupancy, or other reasons may be able to claim this exemption that alleviates their emissions limits.

In addition, declared not-for-profit hospitals and healthcare facilities may avail of an exemption that also adjusts their emission limits, potentially lowering their penalties in the short-to-medium term. In such cases, these institutions may not be liable to pay as severe penalties for exceeding emission limits. It is important to classify buildings appropriately, especially considering such potential exemptions.

Before punching in numbers in an online calculator, and possibly being incorrectly classified, explore other avenues to ensure your buildings are accurately evaluated. Also, look to a qualified consultant to help navigate the nuances of the Climate Mobilization Act and avoid steep penalties.