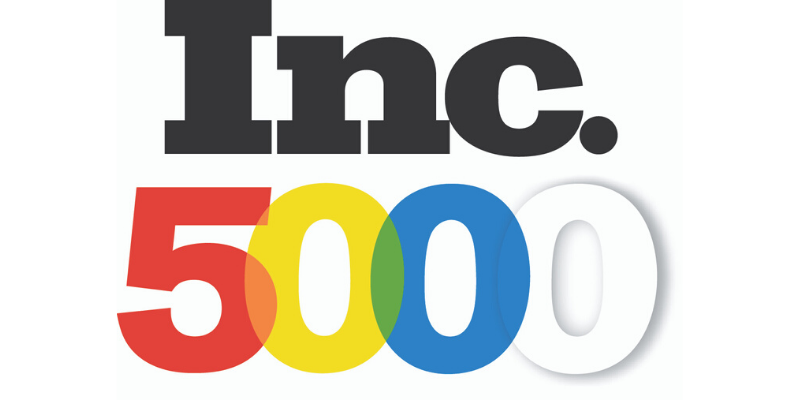 Irving, TX - August 14, 2019
Inc. Magazine has named Irving-based energy advisory firm 5 to its Inc. 5000 list for the fourth year in a row. This prestigious list recognizes the fastest-growing private companies in the United States, ranked according to percentage revenue growth over the three prior years from 2015 to 2018.
Collectively, the companies on this year's Inc. 5000 list recorded $237.7 billion in revenues, achieving record three-year average growth of 454 percent. According to Inc. editor-in-chief James Ledbetter, the recognized companies share two things in common: "persistence and seizing opportunities."
5 currently works with more than 100 cities, counties, school districts and water authorities in Texas, in addition to national industry leaders, such as Xerox Corporation, Schwan's Global Supply Chain and Raising Cane's. In April, 5 acquired a major energy management firm in the Northeast, Luthin Associates, which represents major healthcare and educational institutions, along with commercial developments and residential towers, in the greater New York area.
"Our exponential growth in the last year correlates with the ever-increasing complexity in the energy space and our ability, in turn, to support clients in a multitude of ways," said Brian Hayduk, Chief Executive Officer for 5. "With new technology and innovative approaches to energy springing up almost daily, we are a catalyst for large consumers to capitalize on these opportunities. Our engineers, commodity market experts, and energy advisors are constantly monitoring and capitalizing on changes in the market, doing regular deep-dive analyses on companies' operations and energy utilization trends, and then translating that information into operational adaptations or procurement options that can reduce energy costs significantly."
In addition to the Inc. 5000 list, 5 has received recognition in consecutive years from Inc. on its list of "Best Places to Work" in America, from Fortune on its "Best Small Workplace in America" list, and from Texas Monthly on its "Best Company to Work for in Texas" list. Entrepreneur has also named 5 to its "Most Entrepreneurial Companies in America" list, highlighting the 360 small businesses each year that are mastering the art and science of growing a business.