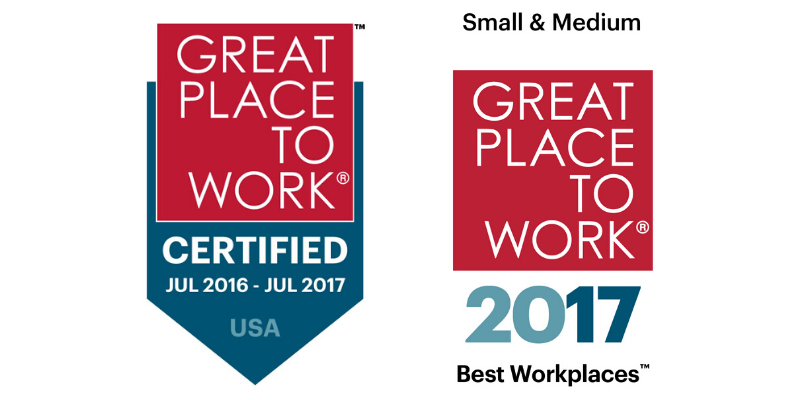 Irving, TX - October 18, 2017
For the second year in a row, Fortune Magazine and the consulting firm Great Place to Work recognized 5 as one of the country's best small and medium workplaces. 5 moved up 10 spaces to claim the #20 spot in America for the 2017 list.
5 won this accolade based on employees' anonymous responses to an extensive survey about their levels of trust, pride and camaraderie at work. Great Place to Work® reviewed the survey results of more than 52,000 employees from hundreds of companies in the ranking process.
"Our mission is pretty simple, to help people, and this award further recognizes the effort we make internally to serve one another and truly redefine the employee experience," remarked 5's Chief Culture Officer, Jeff Schiefelbein.
"The Best Small & Medium workplaces are laying the groundwork for future success by building trust, cooperation and leadership credibility. All of these enhance business performance and create a positive environment for doing business," said Michael Bush, CEO of Great Place to Work.
About the Best Small & Medium Workplaces
The ranking was based on anonymous feedback from more than 74,000 employees working at Great Place to Work-Certified organizations. Employees completed a Trust Index™ survey with more than 50 questions assessing pride, camaraderie, executive effectiveness, innovation, benefits, professional development and other elements of a great workplace. Scores also considered organizations' performance relative to their size and industry, as well as their ability to provide a great workplace for all employees, regardless of who they are or what they do. Survey results from eligible companies had a 6 percent margin of error, at most, with a 95 percent confidence level. Organizations with 10 to 99 employees were considered for the small workplaces list and those with 100-999 employees were considered for the medium list.
About Great Place to Work
Great Place to Work is the global authority on high-trust, high-performance workplace cultures. Through its certification programs, Great Place to Work recognizes outstanding workplace cultures and produces the annual FORTUNE "100 Best Companies to Work For®" and Great Place to Work Best Workplaces lists for Millennials, women, diversity, industries and, internationally, countries and regions. Through its culture consulting services, Great Place to Work helps its clients create great workplaces that outpace peers on key business metrics like revenue growth, profitability, retention and stock performance.