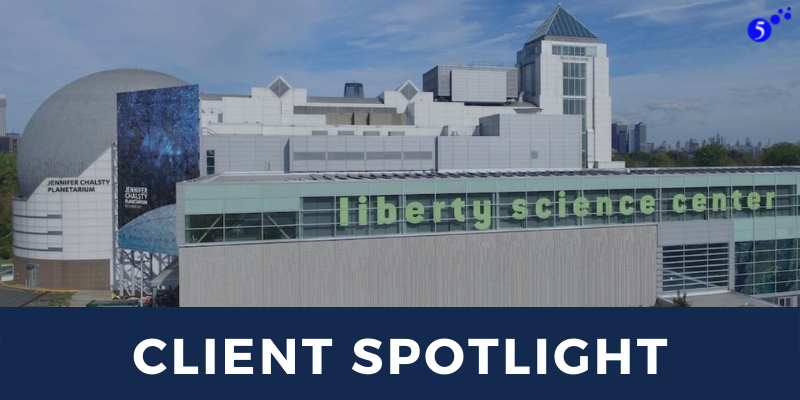 Liberty Science Center is a 300,000-square-foot learning center located in Liberty State Park on the Jersey City bank of the Hudson River near the Statue of Liberty. It houses 12 museum exhibition halls, a live animal collection with 110 species, giant aquariums, a 3D theater, live simulcast surgeries, hurricane- and tornado-force wind simulators, and the Western Hemisphere's biggest planetarium—the Jennifer Chalsty Planetarium and LSC Giant Dome Theater. More than 750,000 students, teachers, and parents visit Liberty Science Center each year, and tens of thousands more participate in the Center's off-site and online programs.

Proactively controlling energy expenses and consistently reducing energy usage has always been a top priority for Liberty Science Center. The facilities and operations staff have looked to the team at 5 as a trusted partner to advise on best practices for electricity procurement and the implementation of a purchasing strategy that takes their existing solar arrays into account. Through a competitive procurement process, electricity contracts were recently put in place that leveraged 5's proprietary energy market platform to identify strategic purchasing opportunities. Liberty Science Center has also aggressively participated in Demand Response programs and taken steps to reduce electricity usage to parts of the museum during periods of peak demand, which has provided an additional revenue stream to the museum over the last decade.

Liberty Science Center has also relied on 5 to provide regular updates on regulatory issues that are shaping energy markets in New Jersey. 5's advisory services have helped Liberty Science Center to take both regulatory and market forces into account as they plan and forecast their energy costs into the future. Paola Amato, Director of Facilities at the Liberty Science Center said, "At a nonprofit like ours, keeping energy use efficient and reducing costs is a big part of the job. 5 has always been a terrific partner in these efforts." Additionally, Chief Engineer Ronald Taglieri said, "We have faced a lot of unpredictable challenges in the past two years. 5's partnership as we navigated our institution's future was invaluable."

5 is privileged to support and partner with an institution that is committed to inspiring the next generation of scientists and engineers through the power, promise, and pure fun of science and technology.
Be sure to check the new exhibits at the Liberty Science Center and information about their upcoming gala.