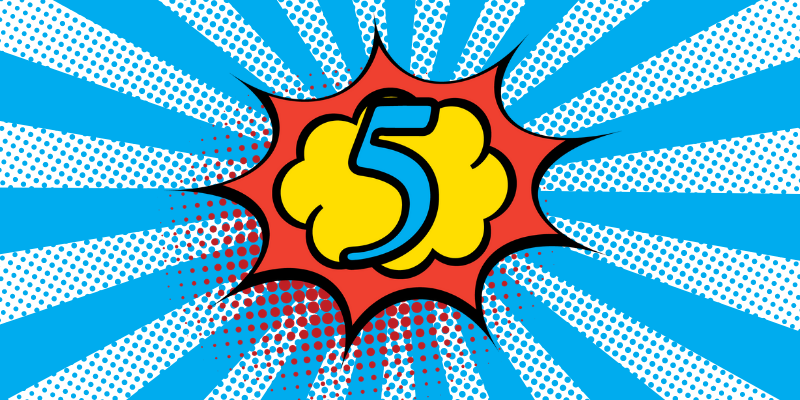 We knew from the start that our unique approach to culture building and client value creation warranted an equally special focus on employee titles and team names within the company. When it came time to determine the best name for 5's leadership team, we selected the name Batman, but not because of the Gotham City superhero. Instead, the name Batman comes from the inspiring personal story of Daniel Kish.

Daniel has been blind since he was just 13 months old but has learned to "see" using a form of echolocation. The clicking of Daniel's tongue bounces off surfaces and returns to him, allowing his brain to construct an understanding of the space around him in a similar fashion to those with normal sight. In his childhood, Daniel learned to ride a bike and navigate his world without assistance from others, ultimately proving that the only "blindness" in his life was the perceived limitations of other people. At an early age, Daniel rightly earned the nickname Batman for his successful use of echolocation. In 2000, Daniel founded World Access for the Blind as platform to teach his methods so that the blind can "see" and the sighted can expand their awareness.

Through his courageous example and his refusal to accept the status quo, Daniel's story embodies the spirit of 5. Every team member at 5, from the Founding 5ers to our newest hire, is asked to embrace this spirit of excellence as we transcend competition and push to redefine "what's possible" in the energy space and beyond. The name Batman, like the name 5, serves as a constant reminder to our team and to the rest of our stakeholders, that we are striving to create something special.

Businesses are usually restricted to certain limitations by the conventional expectations of others. We experienced similar skepticism when we set out to build an energy advisory company staffed with industry executives and subject matter experts that would compete against conventional brokers. We were told that a company like ours had no reason to hire load forecasting analysts, engineers, technologists, and a host of other specialty jobs. The truth is that most of the naysayers simply lacked the "vision to see" the value that would be created by such a powerful team.

So, the next time you are in hotel and see a conference room that reads "Reserved for Batman," you might be surprised to find 5's leadership team enjoying a strategy offsite, or you may get the chance to meet the real Bruce Wayne. Either way, Batman, our leadership team, would like to thank the original Batman, Daniel Kish, for his visionary leadership and desire to help others along the way.