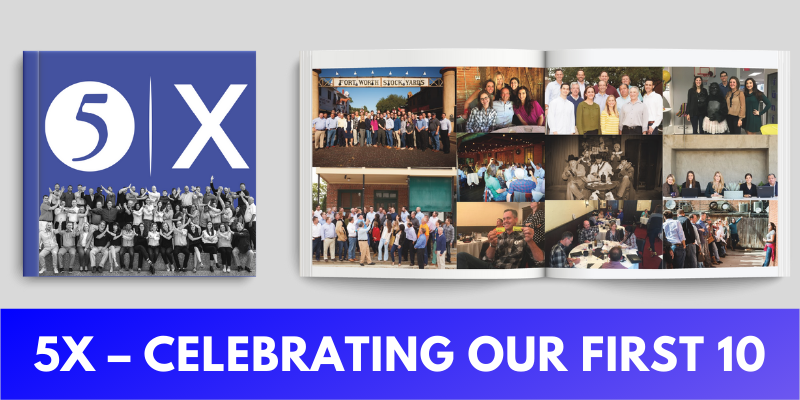 As our company recently celebrated 10 years of industry-changing impact, the entire team presented the Founding 5ers with one of the most thoughtful and energizing gifts to recognize this important milestone, the 5X Yearbook. Starting with a letter from employee number one, Cady Thomas, and continuing through each year with letters from the entire team in start-date order, this hardcover masterpiece shares the individual journeys and gratitude of each 5er. The reflections are complemented by over 300 pictures of special moments in 5's history, from surprise events at our annual All Hands meetings to personal photos spotlighting 5's impact in each of our lives.
10 years ago, we set out to change the deregulated energy industry while also making a positive mark on the very nature of how business is done. We built our business on the core tenets of Conscious Capitalism, picked the name 5 as a disruptive reminder of our commitment to culture after studying the book Tribal Leadership, and recruited the industry's best and brightest to serve as the foundational team to radically help commercial clients with their comprehensive energy needs.
From day one through today, we have seen firsthand how a stakeholder orientation creates win-win-win relationships for everyone that interacts with 5. Clients receive whole health energy plans that exceed their expectations, retail energy suppliers and utilities are treated as partners in the creation of client solutions, vendors are respected and appreciated for their work with our team, and employees are challenged and formed to become the best version of themselves through work that is meaningful, collaborative and dignified. The original thesis behind the creation of 5 and the vision for what it would become are both materializing each day as 5 takes a lead role in the energy transition underway.
Somehow in the 5X Yearbook, the letters and pictures combine to convey the immense impact (past, present, and future) of 5's culture and capabilities. Even the cover page captures the essence of 5 with the 5X version of the company logo and its multiple layers of symbolism. The 5X itself signifies the exponential growth and service of the firm, all of which are designed for a 5X impact on our stakeholders. The roman numeral X recalls the first ten years of helping people while also pointing forward to the next ten years to come.
The 5X Yearbook was delivered to the Founding 5ers in the middle of a three-part series of internal events that were themed "Renew, Sustain, Thrive". These events spotlighted 5's continued focus on the environment along with the company's constant belief that we need to be renewed and continue to dig deep to sustain our impact and ability to help others.