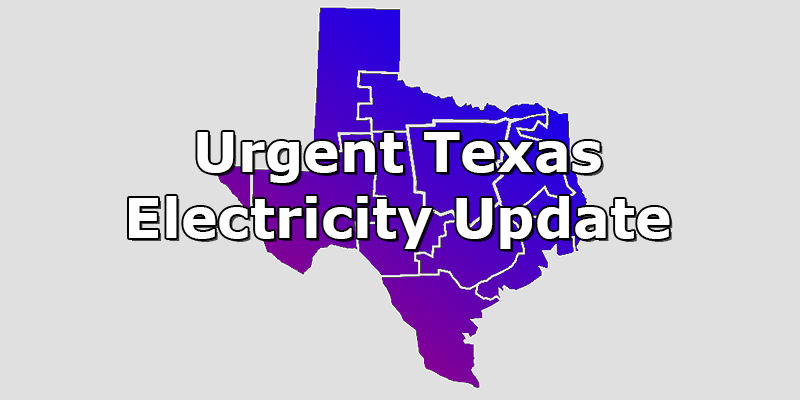 Conservation Needed
To all businesses and homes in Texas fortunate enough to still have power, please reduce electricity consumption throughout the rest of Monday and Tuesday. The Texas electric grid is experiencing unprecedented strain, and many have been without power since early Monday morning. You can help by reducing the setpoint on your thermostats, turning off and unplugging non-essential lights and appliances, closing shades and blinds, and avoiding use of large appliances (ovens, washing machines, etc).
Extended Power Outage?
For those experiencing power loss beyond the expected rolling blackout periods (15 to 45 minutes), notify your local Transmission/Distribution Service Provider (TDSP) by calling the appropriate number below.
AEP Texas Central: (866) 223-8508

AEP Texas North: (866) 223-8508

CenterPoint Energy: (800) 332-7143

Oncor: (888) 313-4747

Sharyland Utilities: (956) 668-9551

TNMP: (888) 866-7456
Looking for Your ESIID?
We have received calls throughout the morning from people trying to locate their ESIID number. This identification number should be easy to locate on a recent bill or it can be found through various third-party websites.
Stay Safe
Many clients (and members of our team) are still without power after losing it early this morning. If you are experiencing an extended outage, we recommend that you report the outage and consider taking the necessary precautions to stay safe and warm. There is no accurate way to know when power will be restored to each area and nothing that can be done to expediate one request over another. If you need to relocate to a safe place but do not know where to go, search the internet for your nearest warming center, a short-term emergency shelter that operates when the combination of precipitation, wind chill, wind and temperatures becomes dangerous.
Solidarity
Our team is working to help clients, friends, and neighbors throughout Texas and we will continue to provide updates and resources as the situation develops further.