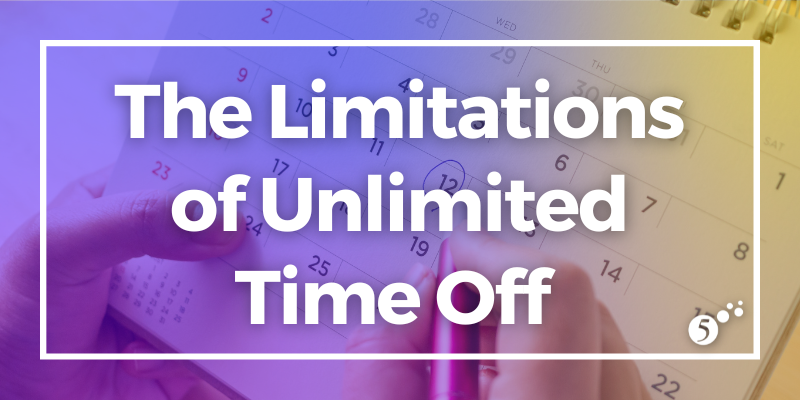 Sometime during the recent work-from-home transition, I came to view our unlimited time off policy differently. From the beginning of 5, we always took the approach that our employees were fully formed adults and therefore they could be trusted to manage their own time off without onerous rules and restrictions.

As early adopters of this approach, we proved skeptics wrong and found that our team members were enjoying the freedom afforded by this policy and owning the associated responsibility. 5ers were taking time off for vacations, showing up for their kids' school events, weaving doctor visits and the occasional person needs into their workdays, and enjoying maternity and paternity leaves with the arrival of each new life. As a foundational part of our culture, unlimited time off was one of those perks that did not need regular attention.

Then came the COVID-19 pandemic. As our workforce transitioned to completely remote work, we started meeting over video in each other's living rooms, kitchen tables, and home offices. As the pandemic progressed, we saw the emotional toll that this new way of work was having on our team members. Like countless other organizations, the line between work and home for many 5ers became blurred, which contributed to employee burnout.

When the line that divides home from work is porous, there is a temptation to keep working with an inability to know when to shut down for the evening. Even those who worked remotely before the pandemic would affirm that the lack of a daily commute makes it difficult to bring the workday to a natural conclusion. This work-from-home transition has forced us to question what taking time off really means, especially in a culture with an unlimited vacation policy. Similarly, many 5ers are also having to adjust their own understanding of what time off looks like when one predominantly works from home.

We have been asking ourselves many questions with this new working paradigm. Are employees really taking enough time off and shutting down when working from home? Would employees be more intentional about stepping away from work if there were a set number of vacation days that were allotted each year? Would there be any improvements in employee wellness if there were a mandatory minimum number of days off employees were required to take? Or would these minimums create a feeling of top-down control? There are no simple answers to these questions.

When we first created our unlimited time off policy, our intention was to create a program that recognized the employees' individual needs and rewarded their efforts in whatever way worked best for them. Now we must ask ourselves if a policy change would help us to achieve the same result or if there will be a natural return to normal work and normal time off as the working world rebalances. Our premise that 5ers are fully formed adults and should be able to determine the amount of vacation time that is appropriate has not changed. However, the way we work today is very different from the way it was before the pandemic, and it makes sense to re-evaluate what time off really means. We encourage other organizations to do the same and make employee wellness and resiliency a top priority.