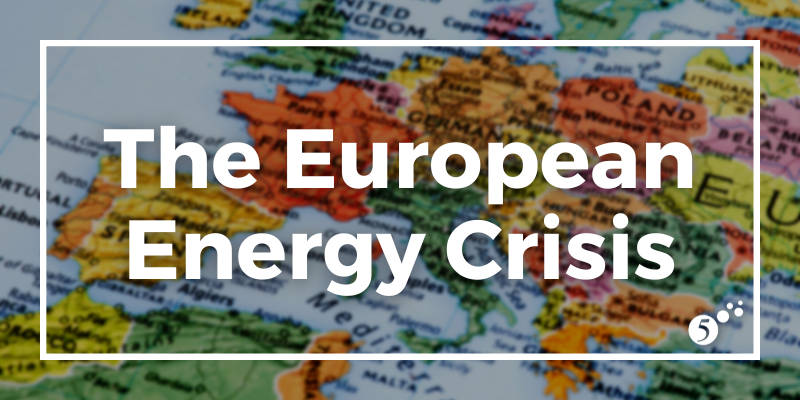 Imagine the reaction of a modest homeowner in America who received an invoice from their electric utility that was more than $1,000 per month, or a monthly natural gas bill that exceeded $500. While these figures may seem outrageous, this is the situation that many in Europe are facing as they head into the fall and winter heating season. Anyone who has shopped for natural gas or electricity knows that prices have consistently increased over the last 18 months. Many homes and businesses are seeing electricity and natural gas rates that are between three and five times higher than previous contracted rates. And while there is no question that this is painful, the situation in the United States is not nearly as desperate as it is in Europe. The chart in Figure 1 shows that the price of natural gas for January delivery at the Dutch TTF trading hub peaked in late August at over $100/MMBtu. Domestically, on August 23, that same contract hit its maximum value of $9.77/MMBtu, making the European price of natural gas ten times more expensive than in the United States for that October contract. Circumstances are similar in Europe's electricity markets. In late August, wholesale electricity prices in France were more than five times the wholesale price of electricity in New York City. As Figure 1 shows, the price of that January contract has fallen in Europe (and domestically) over the last month, but it also illustrates the dramatic difference in energy prices on both sides of the Atlantic Ocean.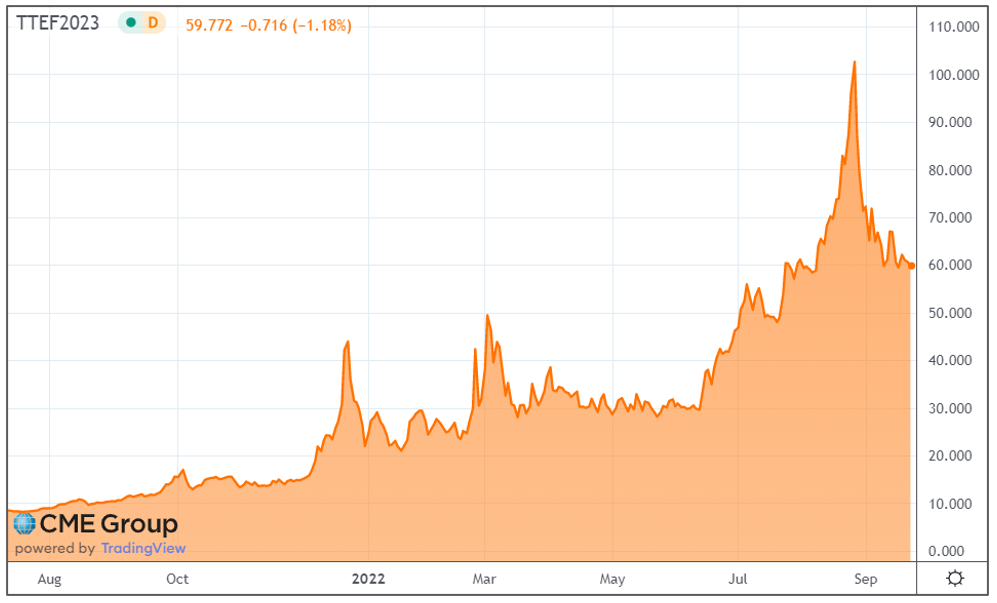 Figure 1: ICE from cmegroup.com
The fundamental concern is that Europe will run out of natural gas this winter. And while the Russian invasion of Ukraine and Putin's threat to cut off gas supplies to Europe are a significant driver in this predicament, it is not the exclusive cause of the crisis. Over the last several years, Europe's fuel mix has shifted from one that was relatively diverse to one that is predominantly fueled by natural gas. Table 1 shows how the dependency on natural gas has changed for several European countries since 2015. For many of the countries listed, retired coal and nuclear plants have been replaced by natural gas-fired units.

Table 1: Natural Gas Dependency in European Countries from ourworldindata.org
While there has been a steady increase in the amount of electricity supplied by renewable power, these are mostly intermittent sources of energy that are not base-load generating assets and have a lower output in the winter months. Putin's threats to terminate natural gas supplies to Europe have made matters worse. The Nord Stream 1 pipeline (see Figure 2) has been delivering approximately 5 Bcf/day from Russia to Germany over the last 10 years. Over the summer, Gazprom (the Russian energy conglomerate and majority owner of the pipeline) temporarily halted gas flow through this pipeline, which set new, record high prices and stoked global market fears. And while Russia claims it is not deliberately waging an "energy war" against Europe, others are not so sure. Many are concerned that reduced gas supplies from Russia this winter could have a crippling effect on the European economy since Germany is also a transit country through which gas flows to other nations. Workers are already being furloughed in energy-intensive businesses across Europe to cut costs in the face of staggering energy prices.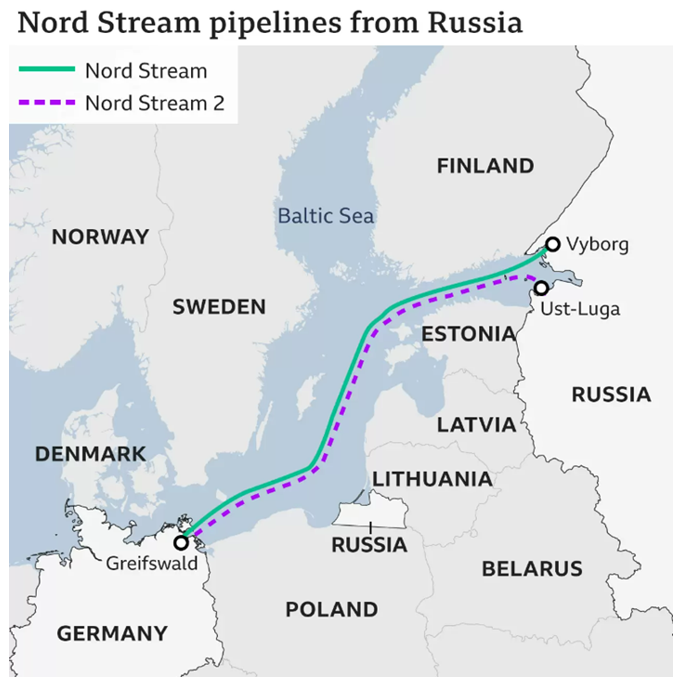 Figure 2: Nord Stream Pipelines from Russia from bbc.com
European governments and other global natural gas producers are taking steps to mitigate Europe's dependency on Russian natural gas. In August, the wholesale price of electricity hit a daily average of $590/MWh in Great Britain. This month, the British government announced a series of caps on the price of electricity this winter for businesses. Beginning in October, the wholesale price of electricity will be capped at $240/MWh for six months, which is about 50% of where prices are expected this winter. These drastic measures are being taken to help businesses cope with soaring energy prices. Similar measures are being taken to protect residential energy bills. In Berlin, the German government spent $8 billion to purchase a 99% share in Uniper (Germany's largest importer of Russian gas), to sustain its operations. This is the third energy company with which Germany has become involved recently, in order to protect its energy supplies. Other countries, such as the United States, have been sending liquified natural gas (LNG) to Europe to augment their gas supply. Currently, domestic LNG exports are at their maximum capacity as more gas has been exported to Europe in the first six months of 2022 than in all of 2021. Currently, the biggest limiting factor is total LNG export capacity and the number of LNG tankers available to send domestically produced natural gas overseas.
Higher foreign gas prices, driven by demand, are also influencing the price businesses and consumers are paying for energy across the United States. Instead of putting gas into storage in advance of the winter heating season, gas producers are incentivized by higher foreign prices to liquify and send that gas overseas. The economics for US gas producers are clear, especially when natural gas in Europe is trading at prices that are ten times more than the price at the Henry Hub in Louisiana. Natural gas pipeline capacity limitations are also influencing natural gas customers in eastern New York and New England. A lack of pipelines in this part of the country means that additional supplies must be shipped in domestically through LNG tankers to meet the high demand for gas used for heating during the winter. This is one of the reasons why natural gas is more expensive in the northeast. Table 2 shows how the winter strip price (November 2022 to March 2023) of natural gas varies across different domestic trading hubs. Since natural gas is the dominant fuel for the generation of electricity, these elevated gas prices are spilling over into the price of electricity across the country, especially in the northeast.

Table 2: Natural Gas Price for November 2022 to March 2023 as of 9/23/2022
Some may think that the conflict in Ukraine and Europe's energy crisis are a world away. However, the risks of insufficient natural gas supplies to meet demand this winter are very real for many European countries. This has not only pushed gas and power prices to their highest levels, but it has also forced many governments to act in order to avoid a potentially catastrophic energy crisis. Additionally, many energy-intensive businesses cannot operate when their energy costs are ten times what they were last year. The collapse of the European economy due to a lack of energy would likely trigger a global recession. A lot will depend on the severity of this winter. Colder than average temperatures will aggravate this already tenuous situation. Will Russia curtail its gas supplies to Germany? Will Germany hold onto whatever gas it gets and not export it to other downstream countries? There is a lot at stake, and this is, in part, what is creating both fear and uncertainty in gas and power markets. This is why it is crucial to pay attention to what happens in Europe over the next several months.