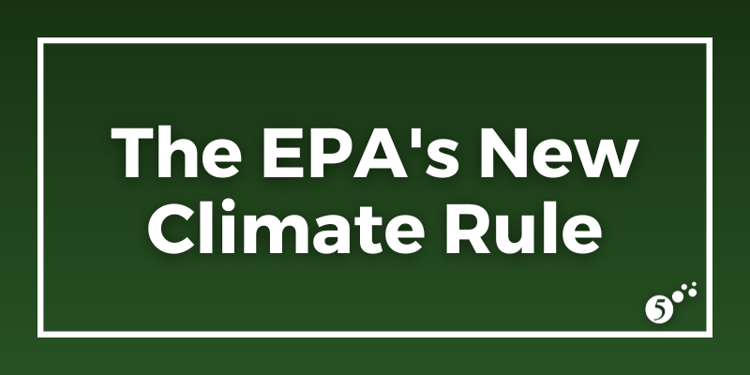 On May 11, 2023, the U.S. Environmental Protection Agency (EPA) proposed new rules designed to limit emissions from existing and new coal and natural gas fired power plants. This is the EPA's third swing at regulating CO2 emissions from power plants. Its first at-bat dates back to 2015 when the Obama Administration's EPA introduced the Clean Power Plan (CPP). The CPP proposed state-by-state emissions limits. These limits were quickly challenged by numerous states, particularly those with significant amounts of coal-fired generation. While these legal challenges were ongoing, President Trump was elected. Trump scrapped the CPP and introduced the Affordable Clean Energy Rule (ACE), which overrode the CPP and gave the states more power to set their own emission limits. The ACE also faced challenges in the courts.

In June 2022, the Supreme Court issued a ruling in West Virginia v. EPA that significantly limited the ability of the EPA to regulate emissions without a clear mandate from Congress. This ruling assures that the EPA's new proposed rules, if finalized, are likely to face a lengthy legal battle.

The latest EPA plan sets out aggressive emission reductions and is likely to further accelerate the retirement of fossil fuel generation units. By 2030, the EPA plan requires any coal plant that intends to operate past 2040 to use a carbon capture and storage (CCS) system to eliminate 90% of its CO2 emissions. Large natural gas generation units will also be required to install a CCS that captures 90% of their carbon emissions by 2035 or operate on clean hydrogen by 2038. While there are different restrictions for smaller generation units, the EPA's rules lean heavily on carbon capture, clean hydrogen and in some instances, use of dual-fueled gas plants with both natural gas and green hydrogen. At the same time, the EPA has acknowledged that CCS and clean hydrogen are not yet in widespread commercial use.

As filed last week, the EPA plan is a proposed rule, and the EPA will need another year or so to issue a final version. Once the final version is issued, states will have another two years to submit plans to comply with the regulations. This timetable will be delayed further by the inevitable legal challenges. West Virginia Senator Shelley Moore Capito and Attorney General Patrick Morrisey have already vowed to lead congressional and legal efforts to kill the rule.

A few things are clear. First, if the rules are adopted, the cost of generating electricity from coal and natural gas plants will increase dramatically. Second, even if the prospects for the EPA's new rule are limited by various challenges, the proposed rules will cast a shadow over new investments in existing and new fossil fuel generation. Testifying before FERC on May 4, 2023, a bipartisan panel of FERC commissioners (2 Democrats and 2 Republicans) raised their shared concern that the reliability of our electricity grid is challenged by the fact that we continue to see fossil plants retire at a rate far faster than they are replaced by new emission-free generation. Of course, we will continue to monitor this important regulation on behalf of our clients.