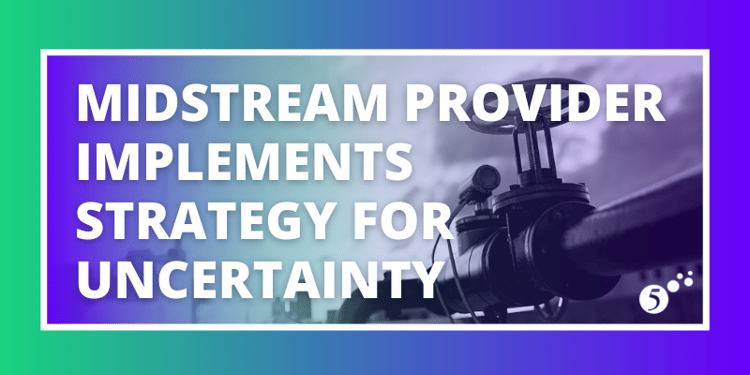 In 2020, a midstream oil services provider approached 5 to help manage the electricity for a new facility that was ramping up its operations in the Midland Basin. This new facility gathers and stores crude oil from various wellheads in West Texas and connects it to local refineries through its pumping stations. Most of the electricity at this midstream facility is used to power a series of 200 to 400 HP variable frequency drive motors that will deliver more than 100,000 barrels per day to several downstream delivery points. This client hired 5 to help in modeling the electricity usage as the facility went into operations and gradually increased its pumping capacity. The rapidly fluctuating demand for crude oil during the pandemic added to the complexity of forecasting and budgeting this facility's energy costs and consumption.

5's engineers and energy analysts worked with this client's engineering team to understand and predict the operating the facility's electricity load shape under a variety of operational scenarios. This analysis established the parameters for an electricity contract that accounted for the variables and unknowns associated with the overall economic demand for crude oil as well as the facility's initial operating cycle.

After several months of operating history, 5 identified an opportunity to capitalize on the relatively flat usage profile of the crude oil pumps and shift the client's usage to off-peak periods. Additionally, a load-following block contract structure was evaluated which provides a degree of budget certainty while also allowing for fluctuations in the amount of crude oil coming from wellheads in the Midland Basin. This is a prime example of why there is no one-size-fits-all energy contract, and some degree of customization is required when entering into an electricity or natural gas supply agreement.