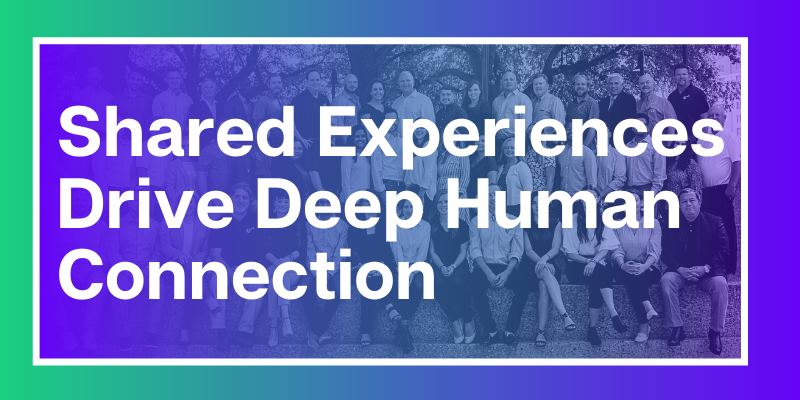 "We could break every sales record and I wouldn't be as proud as I am of our team today."
When I receive these notes from fellow 5ers, it reaffirms my belief that shared experiences drive deep human connection in the workplace. We orchestrate unique and meaningful events throughout the year for our team that inspire creative thought, socialize stories of client impact, embrace diversity, unleash a childlike wonderment, and provide a platform for powerful vulnerability and individual growth. The shared experiences at 5 are a cornerstone for our award-winning culture.
What qualifies as a shared experience at 5?
A shared experience is a unique event or moment that is unlike any typical gathering or common corporate occasion. To be clear, a team lunch or happy hour is an expected part of most work cultures, and therefore does not qualify. Instead, when a team enjoys a well-designed experience, they find it difficult to describe the richness of their encounter to friends and family that were not present. This feeling is encapsulated by Texas A&M University's quote about the school's tradition that reads, "From the outside looking in you can't understand it and from the inside looking out you can't explain it."
Why do shared experiences matter?
For many organizations, the idea of spending time, money and energy on unique shared experiences can sound difficult, distracting, and possibly pointless. However, that point of view is short-sighted and uninspired. There are countless benefits that reach into the depths of every aspect of a workplace when you can compose uncommon moments for your team. For starters, team members feel valued when they realize that their company cares enough about them and their development to invest in these activities. Shared experiences also create new relationships, inside jokes, and a unique company vernacular that bonds team members together as they face the next set of challenges and opportunities. Perhaps the most important result of these events is the newfound energy as team members are refreshed, motivated, and encouraged to bring their best selves to work each day, striving to win together and treating business as a team sport.
Shared Experiences at 5
We take our shared experiences seriously at 5. We have found that planning and executing high quality events does not need to be difficult, but it does require your planning group to be very intentional. Each event at 5 is carefully constructed to achieve a desired outcome and every detail is thoroughly planned and rehearsed to maximize the overall impact without creating undue distractions from poor execution, sloppy transitions, or technology issues.
The hallmark event each year is our annual All Hands meeting in the fall. Traditionally this event is held in-person with every team member from Manhattan to Mexico City coming together in North Texas. Each All Hands includes a completely unique set of activities, team challenges, surprises, guest speakers, and swag, all centered around a specific theme.
The 2019 All Hands was a unifying moment as we joined employees from 5 with the recently acquired Luthin Associates to host a "One-5" event. In addition to giraffe feedings, a partner town hall, heartfelt testimonies from individual team members, a vivid vision from our CEO, Brian Hayduk, and a cooking competition, the culminating moment for everyone came during the company talent show. The show was opened and closed by the company boyband, N-CINCO, and consisted of 16 unique acts. Throughout various comedians, singers, skits, and dance routines, the combined "One-5" team rallied in support of each other and found themselves forever impacted by the raw talent and vulnerability of their teammates.
The team experienced a Level 5 moment that night, a realization that we can combine our skills and strengths to create breakthrough results for our clients and for each other. We may have just been participating in a grown-up talent show, but the complete abandon of ego and the commitment to support one another caused the team's collective heartbeat to be felt by all who were present. "From the outside looking in you can't understand it and from the inside looking out you can't explain it."
For All Hands 2020, however, our team was forced to create a similar experience in a virtual world. Skepticism crept in as we have all been disappointed by virtual galas and marathon zoom calls for the past 8 months. But All Hands 2020 did not fall flat; instead, our team dug-in deep and rose to the occasion. The planning team had swag boxes delivered to each 5er's home prior to the event with numbered packages to be opened at strategic times throughout the 3-day event, including coffee and tea for each morning and a new drink for happy hour called "The 5T".
While the individual business updates were impactful, no one could have predicted the powerful leadership lessons and testimony that came from our first surprise visitor, US Congressman Will Hurd. After Mr. Hurd inspired the team and brought many of us to tears, the team was excited for an afternoon happy hour. We were joined by more surprise guests, the improv comedy group Divine Comedy. The hour-long laughter and interactive activities provided by Divine Comedy left many wondering how the following days of All Hands could get any better.
Just as the talent show became the signature moment for the 2019 All Hands, this 2020 Film Festival, comprised of completely unique film submissions by our very own 5ers, proved to be another Level 5 moment for the team. Eighteen different films were entered into the festival which included music videos, dramas, documentaries, mockumentaries, comedies, and an art film featuring watercolor paintings of each 5er composed by Chief Strategy Officer and Co-Founder, Jon Moore. Once again, a mixture of surprises, tears, and laughter brought the team to a new level of support, understanding, empathy, and dedication that will continue onto the playing field of business for months to come.
If you are ready to get started, where should you begin, especially in this virtual world?
Start small. Challenge conventional wisdom. Book one of your own employees to deliver a TED-style talk to your internal team, get creative on potential topics. Design a team event that takes advantage of virtual breakout rooms and at home supplies like a scavenger hunt or competition for a new company jingle. Create your own team-based trivia (with legitimate prizes worth winning). Send surprise and delight gifts to employees' homes that can coincide with a virtual event. Connect with your employees' loved ones (spouses, parents, kids) and coordinate a moment when you can deliver letters of support and appreciation from their own family members (tears likely).
The bottom line is that you must be intentional about your events. Thoughtfulness matters, and it will go a long with your team. But the first step is to get started.
Would you like to continue the culture conversation?
Please reach out to me directly, I'd love to help. Email Jeff.