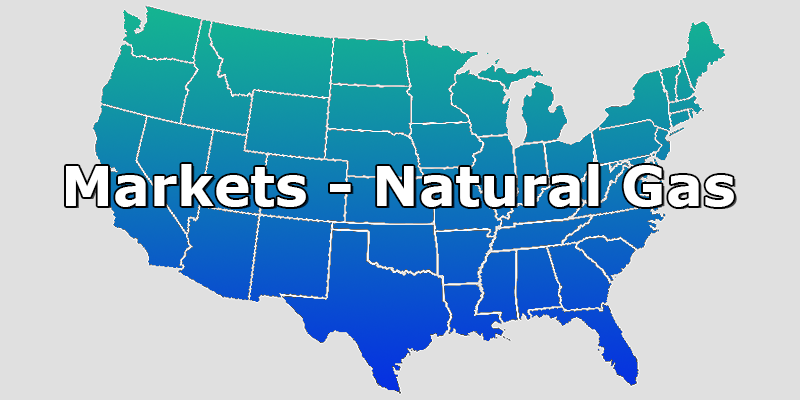 On Wednesday, June 8, 2022, from 10:00 AM to about 12:00 PM CDT, the July contract for NYMEX Henry Hub was trading around $9.60 per MMBtu. Even so, $9.60 is not an all-time high price for NYMEX Henry Hub. During the fall of 2005, after Hurricanes Katrina and Rita significantly reduced oil and gas production in the Gulf of Mexico, the Henry Hub contract settled above $9.60 from September through January before settling back down below $9.00 in February 2006. Additionally, during the spring and summer of 2008, April through August settled above $9.00. Since September 2008, no month has settled above $9.00. So, on the morning of June 8, after rallying up 30¢ from the previous night's closing price of $9.30, it looked like natural gas would again test the $10 mark for the first time in nearly 15 years. Then there was an explosion at a plant due South of Houston, near a small town called Freeport, Texas.
The Freeport LNG facility is one of the largest export terminals in the US, accounting for about 20% of the US LNG capacity and about 4% of the global capacity, exporting around 2 billion cubic feet of natural gas per day as shown in Figures 1 and 2. At approximately 11:40 AM on June 8, 2022, an explosion occurred due to an "overpressure and rupture" of an LNG transfer line that moves liquified natural gas from storage tanks to the loading dock.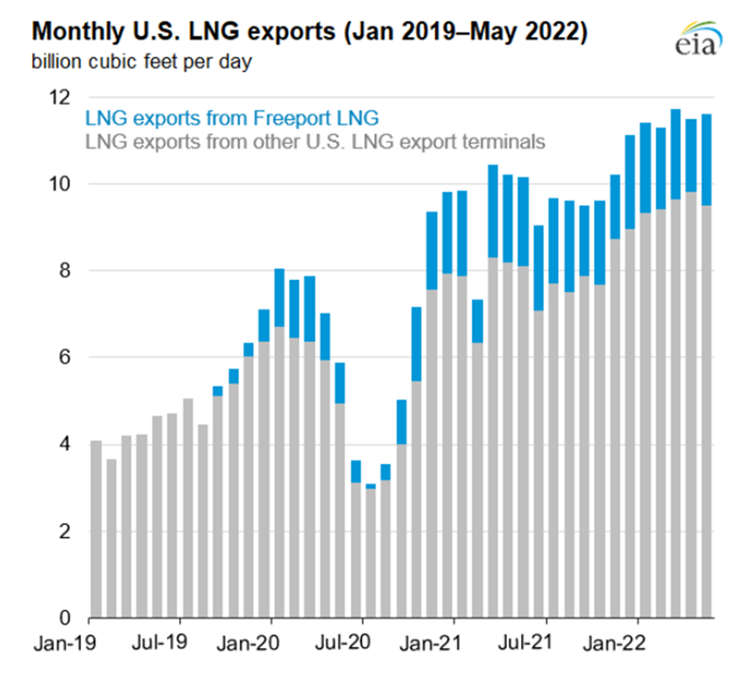 Figure 1: Monthly US LNG Exports (Jan 2019 - May 2022) from eia.gov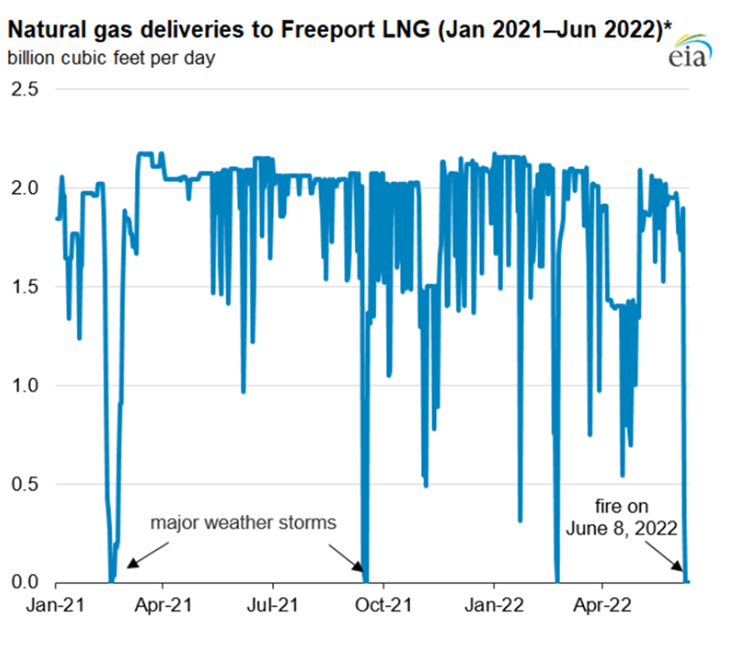 Figure 2: Natural Gas Deliveries to Freeport LNG from eia.gov
This news hit the market about as hard as the explosion at the facility. Within an hour, July's Henry Hub contract sold off $1.00 per MMBtu, down to $8.60. After-hours trading took off another 45¢, but by the end of the trading session on Thursday, prices were back near $9.00.
Initial expectations of the plant's timeline to return to normal production were originally two to three weeks. Over the next few days, the market struggled to quantify just how much natural gas might be affected by this possible outage. Analysts and traders were trying to discern how much natural gas would no longer be exported from the domestic market and sold to international markets. From a market fundamentals perspective, this facility's outage was the equivalent of increasing domestic supplies by about 2 Bcf/day for each day the plant was offline.
The following week, on Tuesday, June 14, 2022, the Freeport LNG publicly released a statement declaring the plant might be out of operation for 90 days and possibly through the end of the year. This news sent a second shockwave through the market. On Tuesday morning, Henry Hub again began selling off, starting the day around $8.70, but ending the session at $7.20, a drop of $1.50 per MMBtu. Tuesday and Wednesday morning could be considered a "dead cat bounce", but by the close of the Friday session, gas was below $7.00 for the first time since April 2022 as shown in Figure 3.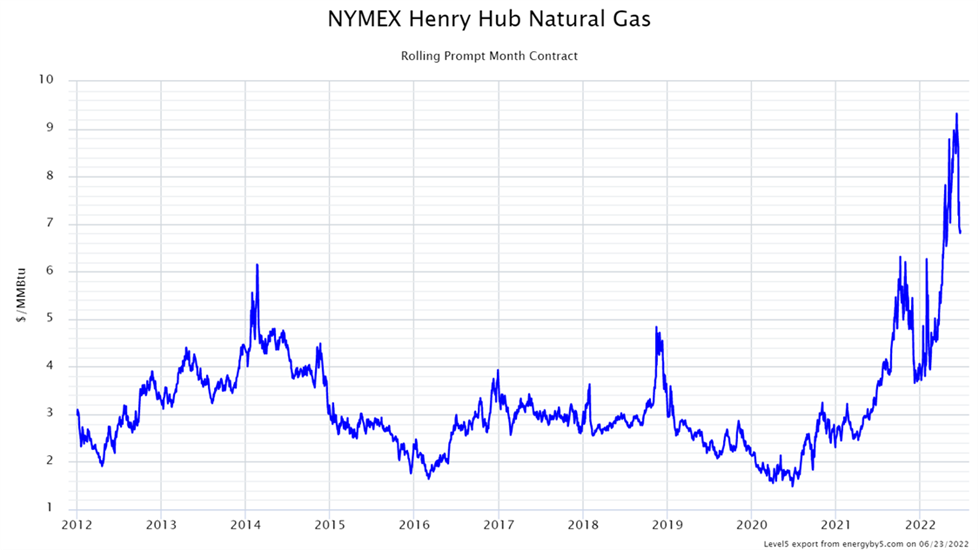 Figure 3: NYMEX Henry Hub Natural Gas Rolling Prompt Month Contract from 5
June 20, 2022, was a federal and market holiday and trading was suspended until the following day. There was some intra-day price volatility on June 21 and June 22 with minimal difference in price at the end of each day's trading session. The big change came with the release of Thursday morning's natural gas storage report. That day's report showed a built-in inventory of about 10 Bcf more than expected. And that was apparently the bearish news needed to push the price down another 60¢, pushing through the support level of $6.60 set back on April 25. The price movements are shown in Figure 4.
This reaction is a great example of what relatively minor bearish news (storage missing by 10 Bcf) can do to a market that is already leaning bearish. As the market was rallying the past couple of months, our opinion was that the market fundamentals did not necessarily support the price rally, and it appeared that the main driver of the market was money chasing money and that the ride would not come to a stop until either the market ran out of buyers, or an event finally turned greed into fear. That event happened this month. In July, perhaps we will discuss how this same event has impacted global LNG prices in the opposite direction.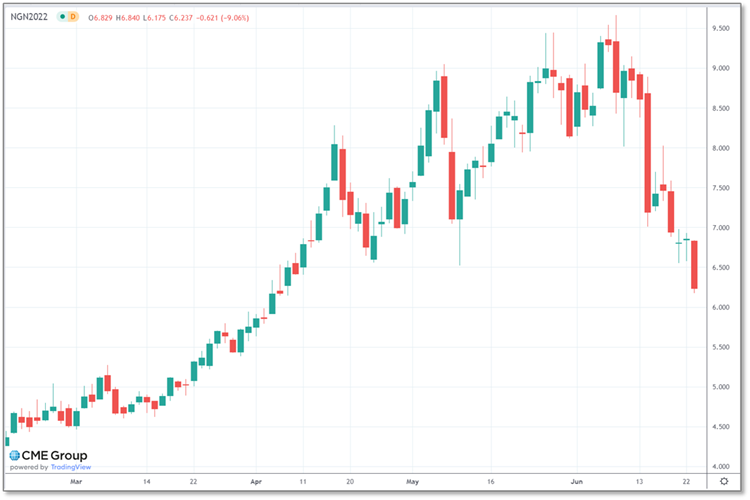 Figure 4: NYMEX Henry Hub's June 2022 Contract with Daily Bars from cmegroup.com