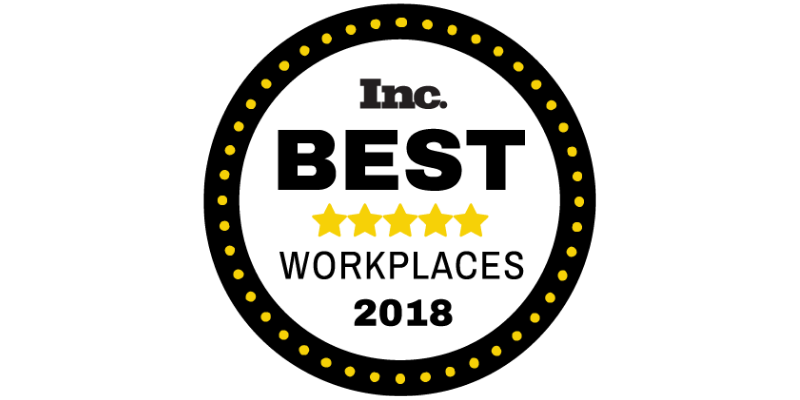 Irving, TX - July 30, 2018
Inc. Magazine has named Irving-based energy advisory firm 5 to its prestigious list of "Best Places to Work" in America for the second year in a row. The annual, highly selective list recognizes the top companies in the country for company culture and employee engagement.
"When we founded 5, we wanted to not only transform the way business is done in the energy industry, but also create an unparalleled work environment that would allow our employees to flourish," said Jeff Schiefelbein, chief culture officer for 5. "We made a conscious decision to focus on culture first and capability/execution second, which has resulted in highly engaged, motivated and happy employees who then deliver best-in-class customer service."
Inc.'s list is a reflection of how innovative companies can raise the bar in hiring and keeping the best talent. The 2018 Inc. Best Workplaces Awards assessed more than 1,600 companies by surveying employees on a collection of multiple choice, scaled and open-ended items. Key components of the scoring focused on company practices around management, employee recognition, performance communication, benefits and other elements of employee engagement. To qualify, companies had to be U.S.-based, privately held and independent, be in business at least three years and have a full-time employee count ranging between 10 and 500. Less than 300 companies were named to the 2018 list.
In addition to Inc. Magazine, 5 has been recognized by Fortune on its "Best Small Workplace in America" list twice (#20 in 2017; #30 in 2016), and by Texas Monthly on its "Best Company to Work for in Texas" list three time (#5 in 2018, #2 in 2017; #7 in 2016). The firm also made Inc.'s list of fastest-growing private companies in the U.S., the Inc. 5000, in 2017 and 2016. Also, Entrepreneur named 5 to its "Most Entrepreneurial Companies in America" list, highlighting the 360 small businesses each year that are mastering the art and science of growing a business.