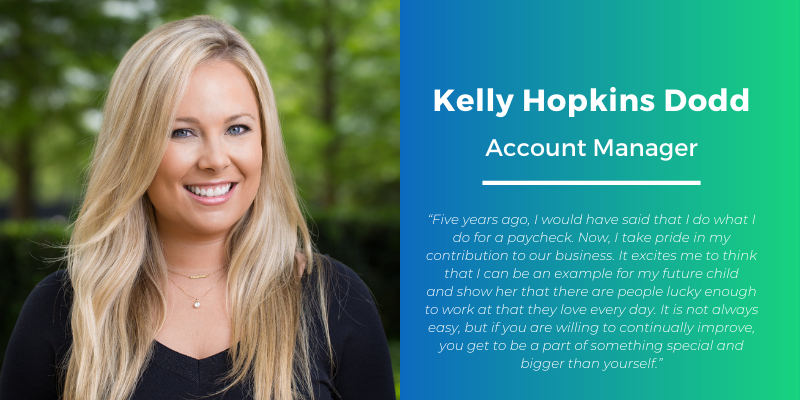 Some of the best personal decisions are often made at family gatherings over a glass of wine. About 5 years ago, Kelly Dodd was having a conversation with 5's head of operations, Cady Thomas, at a Thanksgiving dinner. Cady, who is related to Kelly by marriage, knew that Kelly had experience in sales and told her that 5 was expanding its team in Texas. And after a series of interviews and a lot of soul searching, Kelly decided to make a career change into the energy industry and move from Colorado to Dallas.
Kelly started at 5 as an energy advisor and worked directly with commercial and industrial clients throughout North Texas. With time, Kelly's client base grew to include businesses throughout the country. Her dedication to serving and advocating for her clients' needs were the reasons she was asked to lead a new Account Management Team.
Today, the Account Management Team is responsible for supporting some of 5's largest national clients. Kelly's clients know that they can depend on her to always do the right thing and provide best-in-class energy advice for their businesses. Kelly loves her job and she especially enjoys the versatility and dynamism that her role demands each day.
Kelly's Colorado roots go back four generations within the Hopkins family. She received her bachelor's degree in Political Science and Criminology from Colorado State University. Her crime solving and sleuthing abilities are why some people know her as "Sherlock Hopkins." Kelly lives in Fort Worth, Texas with her husband Donovan, her cat Salem and she is expecting the birth of her first daughter in December. She loves to cook and travel and hopes to do a World War II tour in Europe someday.
Fun Fact about Kelly: Does not have a fingerprint on her left index finger.
Kelly's Why: "Five years ago, I would have said that I do what I do for a paycheck. Now, I take pride in my contribution to our business. It excites me to think that I can be an example for my future child and show her that there are people lucky enough to work at that they love every day. It is not always easy, but if you are willing to continually improve, you get to be a part of something special and bigger than yourself."
Connect with Kelly on LinkedIn.