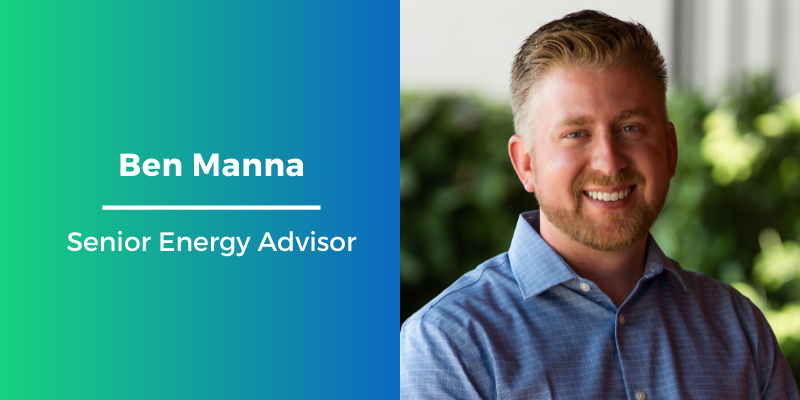 Ben Manna was born and raised in Dallas and graduated from Red Oak High School, about 20 miles south of the DFW Metroplex. While in high school, Ben discovered his natural talents in both sports and music. He played clarinet in the marching band and in ensemble band competitions. Ultimately, he was recognized as an all-region clarinet player. Ben also distinguished himself in soccer as a midfielder and was a part of the 2003 4A State Champion varsity squad.
Ben applied his tireless work ethic during his college years at Dallas Baptist University (DBU). Through most of his undergraduate years, he went to school at night and worked during the day as a teller for the Bank of DeSoto. Ben's knack for numbers naturally drove him into DBU's accounting and finance program. He also enjoyed serving as a youth minister at a local church during that time.
Upon graduation, Ben immediately went to work at PoCo Energy Group as a client support analyst, reviewing energy bills and preparing budgets for commercial and industrial electricity customers. This seemed like a perfect fit for someone with a high attention to detail and a banker's proficiency with numbers. Ultimately, PoCo Energy was acquired by Summit Energy and then by Schneider Electric. Ben moved over into sales and client management in 2013 when asked if he "wanted more." His experiences with bill auditing and review allowed Ben to quickly help clients understand their bills and options in the marketplace for evaluating natural gas and electricity offers. In early 2019, Ben joined 5 as a Senior Energy Advisor. Today Ben works with and supports clients both in the DFW Metroplex and across the country.
Ben received his bachelor's degree in Accounting and Finance from Dallas Baptist University. He lives in Midlothian, TX with his wife Kendra and three children. Ben is very active in the Dallas and Fort Worth Chapters of BOMA and volunteers his time with the North Texas Food Bank. In his spare time, Ben enjoys traveling with family, hiking, kayaking, golf, and BBQing. He is also active and involved with coaching his children's sports teams.
Ben's Why: "When you experience something special in life, sometimes you only realize how incredible it was when that experience comes to an end. Then you are left wondering if it is even possible for anything to be as amazing. This is where I was in the fall of 2018. Thankfully, I found myself talking with Jeff Schiefelbein with the hope that, perhaps, another opportunity to be a part of something special existed. I met with 5's partners, other 5'ers and saw a spirit of unity I had not seen in years and sensed a genuine passion in the team that was similar to what I had experienced in the past. The sign 'Help People' in 5's conference room was literally the writing on the wall for me. I knew 5 was the real thing and I knew I found a new home. Why 5? Amazing people working together with the freedom to be innovative and passionate about supporting each other and helping others elevate their energy experience."
Connect with Ben on LinkedIn.