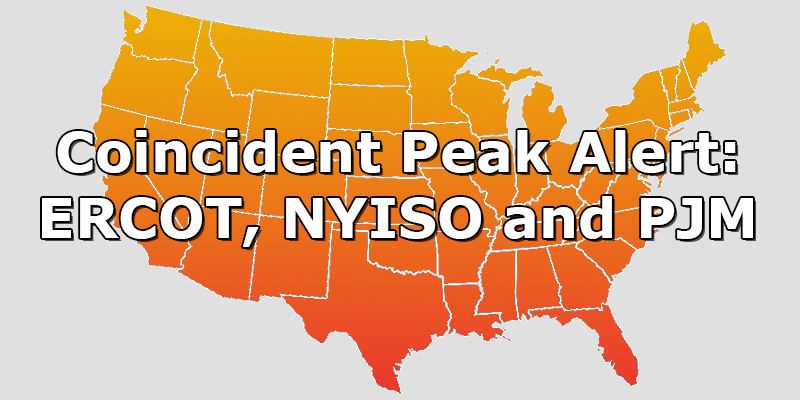 It appears the fireworks have come early this year as several markets are facing medium to high threats for Coincident Peaks ("CPs") today and into the early part of next week.
NYISO: High threats today (July 2) and Monday (July 6)
Today - peak demand forecast @ 25.8 GW
Monday - peak demand forecast @ 27 GW
In New York, there is only 1 CP all summer so clients looking to generate demand-side energy savings won't want to miss it! A recent trend we've observed is that as demand response becomes more popular and more hi-tech, the "obvious" CP day (i.e. Monday – with a higher forecasted peak demand) is often the day when many load curtailments occur, ultimately moving the CP occurrence to one of the "not-so-obvious" days. In fact, last summer's CP in NYISO occurred on a Saturday.
Consumer Tip - If possible, reduce electricity consumption between 3:00-6:00 PM ET to save on Capacity costs in 2021.
PJM: High threats today, tomorrow, Monday, and Tuesday
Elevated temperatures across the Midwest and Mid-Atlantic increase the risk of demand response events.
Today's peak demand is forecast to reach 135.1 GW, but the risk increases significantly next week
Monday - peak demand forecast @ 138.5 GW
Tuesday - peak demand forecast @ 140.2 GW
ERCOT: Low risk today, high threats are expected from July 13th
Today's peak demand (forecast @ 69.8 GW) will probably eclipse the current July peak demand (67.6 GW – established yesterday)
The Texas summer is just getting started and it'll likely be much hotter later in the month
Over the past fifteen years, the earliest occurrence of the July peak is the 12th of the month
Reach out to your energy advisor at 5 or contact us for more details.