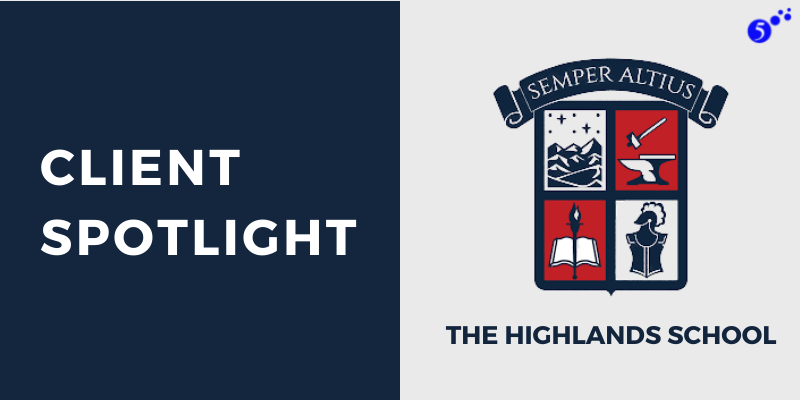 The Highlands School, located in Irving, Texas, has been educating and forming future leaders since the school's humble beginnings in a Dallas family's home in 1986. Having moved to a more permanent location long ago, the school's size and reach have both expanded and they now serve over 300 students from prekindergarten through 12th grade. The school's motto, Semper Altius, is Latin for "Always Higher" and speaks to the school's steadfast resolve to provide "education to face the world and formation to change it."
When it comes to electricity costs, however, "always higher" is not the goal and that is why the Highlands School selected 5 to serve as their energy advisor in 2017. 5's work began with a comprehensive review of the school's existing supply agreements and hourly energy usage. The analysts at 5 were able to identify a better, more proactive approach to energy procurement and identify areas of focus for future capital expenditure needs. After the initial review was completed, 5 engaged multiple suppliers in a competitive bidding process, reviewing offers over several pricing rounds before selecting a final product and supplier that produced more than 17% savings versus the existing supply contract.
In addition to ongoing procurement and demand-side assistance, 5 played a key role in helping the Highlands School to complete the final steps needed for the construction and opening of the school's new St. John Paul II Fieldhouse. After initial construction approval, the local utility made major changes to the transmission lines near the fieldhouse that required the school to redraw and recertify their power plans. Amid the pandemic, communication and coordination had both become increasingly more difficult and the school needed an onsite utility expert to help. 5's construction services team, led by industry veteran Steve Duron, visited the school to assess the situation and provide firsthand knowledge to the utility, ultimately leading to a clear path forward and the successful opening of the fieldhouse in 2021.
"The team at 5 plays a crucial role in our school's ongoing energy management plan," remarked Steve Wright, Director of Finance and Human Resources. "We are so grateful for 5's help with our fieldhouse construction and we are proud to partner with an energy advisory firm that also subscribes to the Semper Altius mindset."
5 is proud to serve many private schools throughout the nation like The Highlands School.
Contact Us today to learn how your school can benefit from our team's comprehensive approach to energy advisory services.