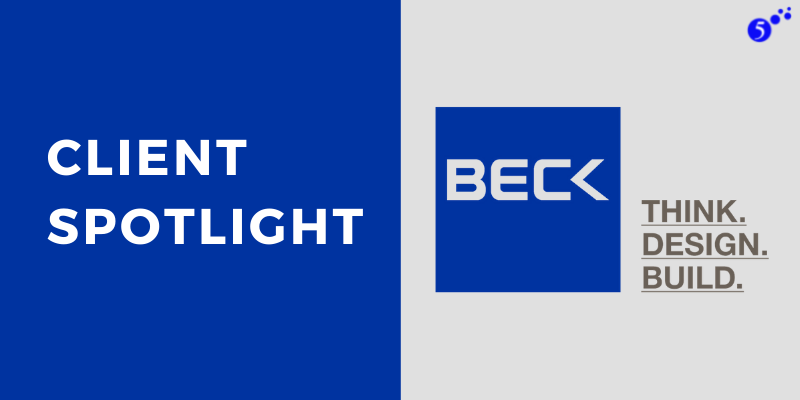 The Beck Group is an international architecture and construction firm that has designed and built some of the most well-known structures in North America. Based in Dallas, Beck also has offices in Atlanta, Austin, Charlotte, Denver, Fort Worth, Tampa, Mexico City, and Monterrey. Founded in 1912 by Henry C. Beck, the company began as a general contractor. It can trace its roots back to the original construction of the Cotton Exchange Building and the Cotton Bowl in the 1920s and 1930s. In addition to its design-build expertise, Beck is also involved in sustainability and technology solutions that help its clients operate their facilities cost-effectively.

The Beck Group looked to 5's advice and guidance for electricity supply at its construction sites. Large construction cranes and other equipment consume a lot of electricity, and utility tariff rates for temporary construction loads are often expensive. Additionally, there can be excessive risk premiums built into these utility rates given the usage variabilities and short-term nature of the electricity needs associated with construction projects. Leveraging 5's expertise, Beck has been able to obtain favorable electricity rates based on predictive modeling that forecasts usage in a way that also accounts for usage variations that are inherent with construction operations. These favorable rates reduced Beck's building costs by two to three times throughout a typical multi-year construction project.

5 also assists Beck with the planning, logistics, and coordination necessary as building projects are completed and utilities are transitioned to the owner. For a general contractor, scheduling and adhering to the project timeline are critical. In this capacity, 5's team works closely with the firm's on-site construction management teams to ensure that temporary utility meters and numbers are replaced and activated with permanent ones that are assigned to the new building owners. This can require an extensive amount of coordination with both the general contractor and the utility company as projects move toward completion.

Greg Brock, Director of Mechanical, Electrical, and Plumbing Services, said, "At Beck, we are about creating teams from all disciplines with a singular focus of exceeding expectations on every project. We work with only the best, and 5 has shown an uncanny ability to navigate the complex utility world to keep our costs low and projects on time."

5 is proud to be a valued member of The Beck Group team as they continue to set the standard for excellence in the construction industry and help to build the skylines of this new century.