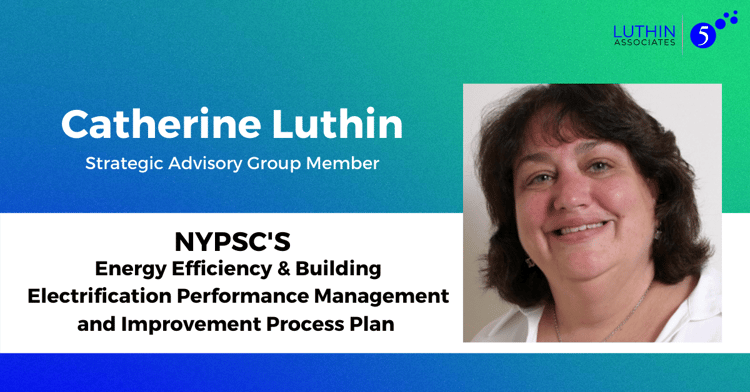 Allenhurst, NJ - August 14, 2020
Catherine Luthin, President of Luthin Associates, has been selected to serve on a Strategic Advisory Group (SAG) as part of the New York State Public Service Commission's (NYPSC) Energy Efficiency & Building Electrification Performance Management and Improvement Process Plan (PM&IP Plan). The SAG members include a broad cross-section of knowledgeable representatives from critical customer and market groups and leading solution providers. Peggie Neville, Deputy Directory of Efficiency & Innovation at the NYPSC, will service as Chair of the SAG.
"Energy efficiency and building electrification are high priorities for New York State in achieving our ambitious climate goals," remarked John Rhodes, CEO of the NYPSC. "New York has some of the most ambitious clean energy and energy efficiency goals, and achievement of them will require active performance management, as well as collaboration across all parties involved. The SAG will be an important input to our new PM&I Process."
The other members of the SAG include:
Rory Christian - Concentric Consulting Group/WE ACT for Environmental Justice

John Ciovacco - Aztech Geothermal/NY-GEO

Kelly Dougherty - First Service Energy/First Service Residential

Dan Egan - Vornado Realty Trust

Andy Frank – Sealed

Lloyd Kass - Lime Energy

Elizabeth Kelly - New York City Mayor's Office of Sustainability

Maggie Molina - American Council for an Energy Efficient Economy

Jeffrey Perlman - Bright Power

Daniel Schrecongost - C.J. Brown Energy & Engineering

Valerie Strauss - Association for Energy Affordability/EE For All NY

Marc Zuluaga - Steven Winter Associates
Ms. Luthin brings over 30 years of energy experience to this working group. Her leadership and expertise have helped sparked change in the energy industry in New York for several decades. Ms. Luthin is also currently serving on NYC's Local Law 97 Energy Grid Working Group. Previously Ms. Luthin has served on Mayor Michael Bloomberg's Energy Policy Task Force for all three terms of his administration. Ms. Luthin has also received numerous awards and distinctions throughout her career. Most recently, she was recognized as a fellow by the Association of Energy Engineers and as "Energy Service Professional of the Year" for the State of New York.