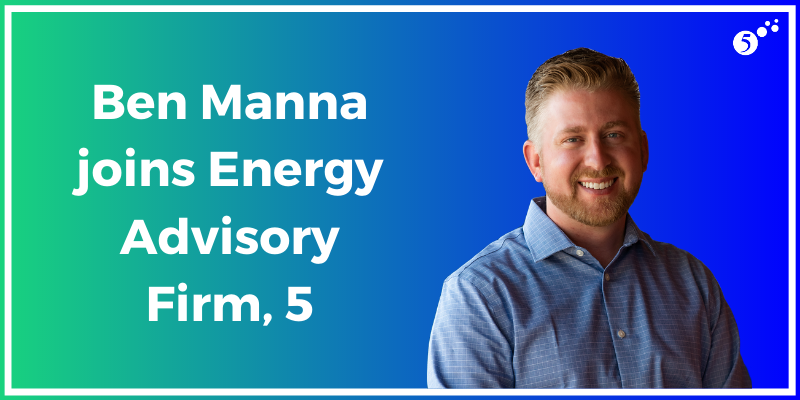 Irving, TX - February 19, 2019
Ben Manna has joined the Irving, Texas-based energy advisory firm 5, bringing with him a decade of experience in providing energy counsel to business owners, managers and operators and helping them meet their energy and sustainability goals.
"Ben will serve as an invaluable asset to 5's portfolio of commercial real estate owners, developers, and property managers, all of whom are seeking innovative solutions to significantly cut their energy costs and increase energy efficiencies – from development and construction through to day-to-day facilities operations," said Jeff Schiefelbein, Co-Founder and Chief Culture Officer for 5. "His expertise will help our clients not only identify opportunities for savings on both the supply and demand sides, but also evaluate for clients the ROI on renewable energy solutions."
Prior to joining 5, Manna worked for Schneider Electric's Energy & Sustainability Services division in Dallas managing energy costs and other energy-related matters for a portfolio representing 20 million square feet of commercial real estate.
He received his Bachelor of Business Administration in accounting and finance from Dallas Baptist University and is currently a candidate for the Certified Energy Manager designation through the Association of Energy Engineers. Manna currently serves as an Allied Council Member of the Dallas chapter of the Building Owners and Managers Association (BOMA) and previously served as committee chairman of BOMA's Young Professionals Committee.
Connect with Ben on LinkedIn.