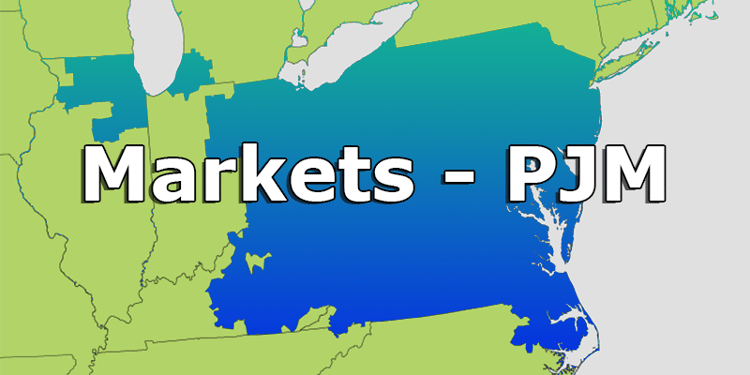 It has been three years since PJM held its last capacity auction. That last auction, which was held in May 2018, established capacity prices for the May 2021 to May 2022 delivery year. Over the last couple of years, there has been a great deal of uncertainty in how capacity prices would be valued beyond May 2022. Before getting into details of the upcoming capacity auction, we should review what capacity is and why it matters.
What is Capacity?
The PJM Interconnection (PJM) is an independent entity that is responsible for ensuring that there is enough electricity supply to meet the demand that is placed on the electricity grid. PJM manages the electricity grid in the areas shown in blue in Figure 1. When demand is high in the hottest parts of summer and the coldest parts of winter, PJM calls upon electricity generators that are on stand-by to begin producing the electricity that is needed to keep up with demand. A commitment by an electricity generator to provide energy when it is needed for a specific period of time is called capacity. The price for capacity in PJM is set through a competitive auction process.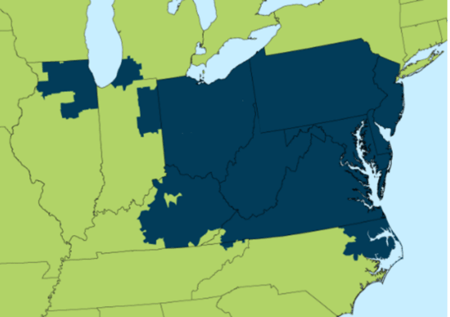 Figure 1: PJM Territory Map from pjm.com
In many ways, capacity is like an insurance payment that is paid in advance to ensure that electricity supply and demand are in balance. When a fixed price for electricity is offered to a client from either the utility or an Energy Supply Company (ESCO), the cost of capacity is a component of that fixed price. Approximately 20-40% of a client's fixed price for electricity is related to these capacity payments that the utility or the ESCO must make to PJM. The cost of capacity is highly dependent on the specific utility territory. For example, the cost of capacity is much higher in PSE&G (NJ) than in AEP (Ohio).
Delays in PJM's Capacity Auction
PJM has not held a capacity auction in three years because of conflict between PJM and the Federal Energy Regulatory Commission (FERC) on the rules and requirements that establish how PJM sets its capacity prices. The specific focus of these disagreements has been on PJM's Minimum Offer Price Rule (MOPR) and how it is applied to renewable power sources such as wind and solar assets. In this previous article, we detailed FERC's opposition to PJM's MOPR rule and its relation to renewable assets. Last November, FERC approved PJM's treatment of the MOPR, which specifically establishes a minimum capacity price for generators, such as renewable power assets, that receive a state subsidy.
This is important for clients because the price of capacity is the second largest cost component of a retail electricity price in PJM. Uncertainty and ambiguity on how this significant cost component is valued adds risk and therefore risk premiums to the fixed price offers of electricity suppliers. The upcoming PJM capacity auction will provide more transparency into how capacity is valued going forward and reduce the uncertainty in this important retail price component.
Upcoming Capacity Auction and Schedule
Last fall, PJM announced its schedule for the next five capacity auctions following an order issued by the FERC on November 12, 2020. In the past, PJM has held these auctions once per year in May. However, an accelerated auction schedule was devised to account for the three-year delay in hosting these auctions. That auction schedule is shown below.
Delivery year June 2022 - May 2023: May 19, 2021
Delivery year June 2023 - May 2024: December 2021
Delivery year June 2024 - May 2025: June 2022
Delivery year June 2025 - May 2026: January 2023
Delivery year June 2026 - May 2027: June 2023
The normal schedule of annual auctions will resume in May 2024 which will set capacity prices for the delivery year 2027/28.
Impact
The results of the upcoming capacity auction will provide clarity into future capacity prices that has been lacking for the last three years. Many things have changed since the last PJM capacity auction was held in May 2018. The balance of electricity supply and demand has changed, a new presidential administration with a favorable view of renewable electricity has taken over, and the US continues its economic recovery in the wake of the pandemic. Saying that it is a different world from three years ago is an understatement. The results of this upcoming capacity will not only be interesting, but they will be critical to the energy management strategies for PJM clients going forward.