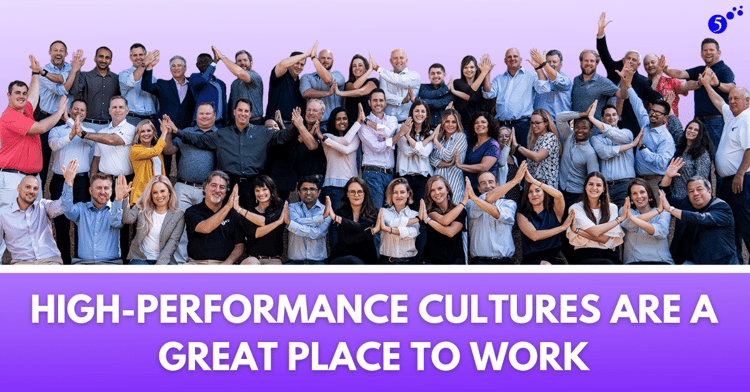 Too often I hear business leaders try to separate great work culture from peak performance. Since many people have never worked for an award-winning, certified Great Place to Work, lack the firsthand experience to understand the key elements and drivers of great company culture. Instead of recognizing the core tenets of intentional culture building, including clearly articulated values, common vision, individual autonomy, integrity, appropriate risk-taking, accountability, excellence, dignified communication, shared experience, and the power of teamwork, people believe that gimmicky office accessories, like ping pong tables and beer taps, are the signs of good culture. That is simply not true.

Likewise, the term High-Performance Culture is surrounded by similar falsehoods including the notion that performance is primarily achieved through extremely long workdays, countless nights and weekends in the office, high-pressure work environments with an eat-or-be-eaten mindset, and a "whatever it takes" justification along the way. Organizations that adopt these principles for performance are wrought with burn-out, apathy, fraud, countercultures, and safety concerns. High-performance cultures are not built by exhausting every bit of utility from the workforce.

To us, a Great Place to Work is synonymous with a High-Performance Culture, they are one in the same. A truly great place to work creates the expectation and responsibility to perform at your best in all aspects of your life. To achieve peak performance, team members should be healthy (mind, body, soul), challenged, trusted, accountable, engaged, celebrated, coached, and given the freedom to reach new heights. As it turns out, these same principles come together in great organizations to create a thriving team-based approach to solutions and service. A Great Place to Work should be demanding enough to satisfy our craving for challenge and mastery while being grounded enough to recognize and celebrate our individual uniqueness and human dignity.

If you are ready to rise to the occasion and test your limits, a certified Great Place to Work will push you to become the best version of yourself and to reach peak levels of performance you may not have imagined.