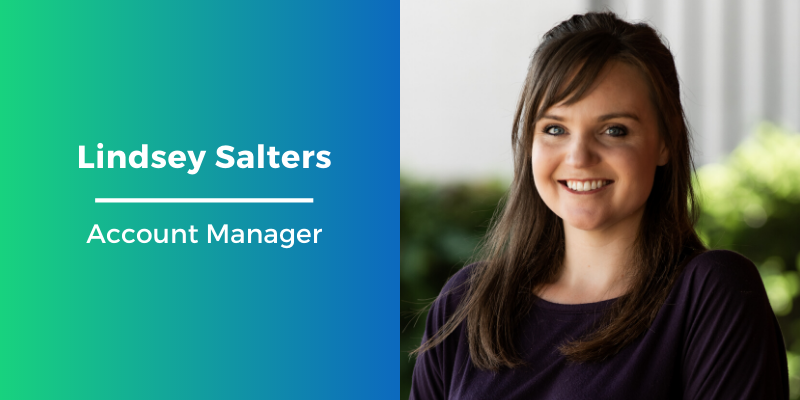 Though born in Shreveport, LA, Lindsey Salters considers herself 100% Texan. While growing up in Longview, TX, her summer vacations consisted of traveling to Arlington with her family to see the Texas Rangers. In fact, Lindsey's initial career aspiration was to be the Ranger's bullpen catcher. She still makes every effort to see local major and minor league teams while she travels with her family. Lindsey went to Texas A&M University where she started out as a Biomedical Engineering major. She ultimately switched to Industrial Engineering, which was more aligned to her knack for systems process management.
Lindsey's first job out of college was with Trane in Los Angeles where she worked as a sales representative for the company's air conditioning and building controls systems. Most of the clients she served were major hotels in and around the Greater Los Angeles area, including the iconic Beverly Hills Hotel. She claims that her visits to the hotel were always business-related and we are sure that is true for the most part…but the celebrity sightings were a nice bonus. Lindsey and her husband Chris moved back to Texas when his job took him to the Metroplex. Chris is a video editor and developed many of 5's videos, highlighting our people and culture. It was Chris who initially told some of the leaders at 5, "Hey, you should talk to my wife." Shortly after that subtle suggestion, Lindsey joined the team.
Today, Lindsey works as a member of the Account Management team and supports some of 5's largest national clients. Her background and experience with building operations and energy systems, coupled with her desire to help and serve others, allows her to provide great service and proactive energy advice to our clients. She also applies her aptitude for systems and processes to identify ways to optimize 5's sales operations.
Lindsey and Chris live in Keller, TX with their two daughters, Sarah and Shay, and their dog, Sally. She enjoys cooking with her daughters and looks forward to getting them into as many sports as possible. It is no surprise that her favorite movie is "A League of Their Own" and the Baseball Hall of Fame in Cooperstown, NY is among the places that she is looking forward to visiting one day.
Lindsey's Why: "Having the opportunity to join a growing and dynamic company like 5 wasn't something I could pass up. While I liked my previous job, I found my people here. I love being able to wear multiple hats and the ability make a difference for clients and the friends that I work with every day. Challenging the status quo at 5 is not only acceptable, it is required. I am excited to go to work every day with people who care about doing the right thing as much as I do."
Fun Fact: Lindsey Salters was inducted into the Young Inventors Hall of Fame for a machine she developed that gathers "gumballs" that fall from Sweet Gum trees. This distinction also earned her an interview on the Regis and Kathie Lee show.
Connect with Lindsey on LinkedIn