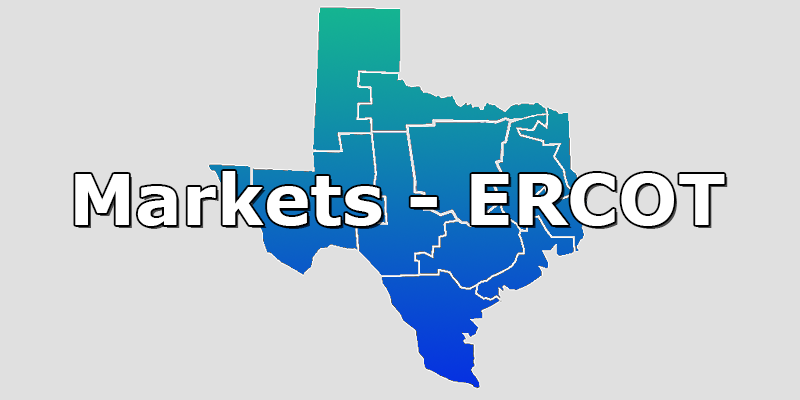 The entire mid-continent is bracing for an historic cold weather event over the next several days. In Texas, energy regulators, delivery utilities, and market participants are making advanced plans to keep the population safe and warm throughout this event. What's in store is not only an energy market issue but also a public safety concern as well. It goes without saying that electric power is a critical service in our modern lives and we should all take precautions against extended power outages over the next few days.
The near-term weather forecast in Texas is the coldest it's been in decades. The forecasted highs and lows for Monday and Tuesday could set numerous "all-time" lows across many portions of the state. These temperatures are likely to be 10ºF to 15ºF colder than February 2011, when ERCOT was forced to deploy rolling blackouts across the state to stabilize the grid.

Source: Amperon
Atmos (the gas delivery utility for most of north and central Texas) has already contacted their industrial customers and have forced curtailments to preserve natural gas pressures for residential and commercial use. This is an important development that illustrates how the state has adapted to extreme weather events over time. During the February 2011 event, several thermal generators tripped offline due to the extreme temperatures. Then, once the blackouts started, many natural gas compressor stations lost power, which further compounded the electric reliability issue by choking off the fuel supply that feeds these power generators.
The good news is that over the past 10 years, the PUCT and ERCOT have worked with power generators to shore up their cold weather procedures while also upgrading the physical infrastructure at these plants, including additional insulation around critical sensors and areas sensitive to cold temperatures like water supply lines. ERCOT also worked with transmission providers to ensure that power to natural gas compressing stations is not cut during emergency conditions.
There is another bit of good news that should help as well. Strong wind production is forecasted in ERCOT throughout this event. In the chart below, we see that greater than 40% of Texas wind resources are expected to be on-line during the worst of the cold, which should dampen any real-time spot market risk and reduce some grid reliability concerns.


Source: Amperon
Ice on wind turbine blades, however, is a potential issue. We've seen in the recent past how ice causes outages at wind farms, starving the grid of electricity when it's needed most. With this storm, current forecasts expect freezing rain to fall in exactly the same areas where our wind resources are installed. De-icing systems are in place on modern wind facilities, but many of the older wind farms are not equipped and will shut down should icy conditions exist.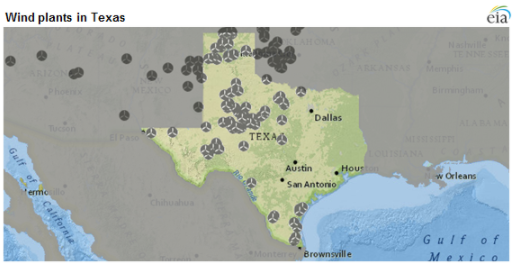 Source: Energy Information Administration (EIA)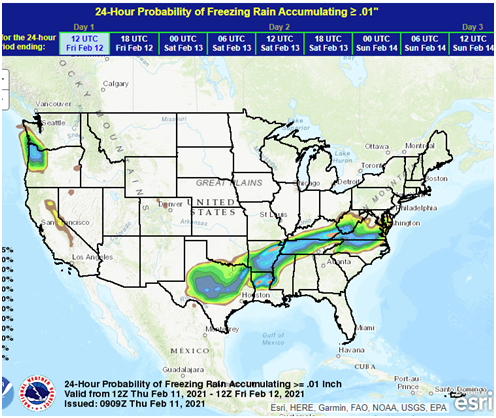 Source: Enverus
ERCOT is already forecasting load for Monday morning through Thursday morning near the all-time ERCOT peak of 74,800 set in August, 2019. In other words, Texas may use more electricity over the coming days than its used on even the hottest days of summer. ERCOT as a winter-peaking system? Wow.
With such little margin for error, we feel it is prudent to prepare for real-time spot electricity prices at or near the $9,000 cap for multiple hours, for Demand Response programs to be deployed, and for the possibility of rolling blackouts. For clients in Texas, now is the time to fuel your vehicle, charge your batteries, and pull out your ski clothes.