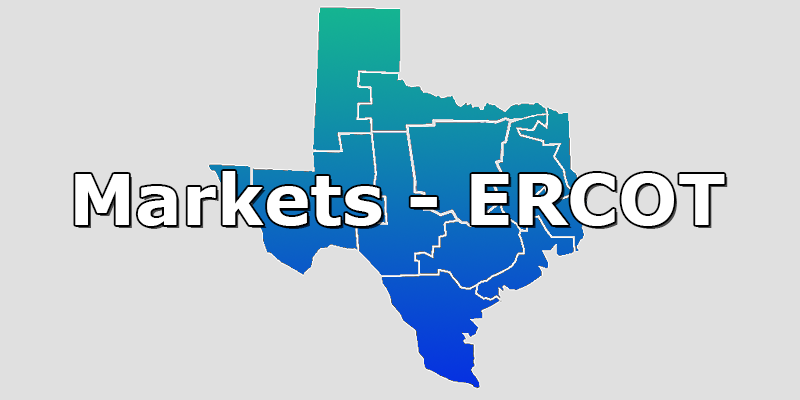 This summer, temperatures in Texas have been significantly higher than average, with record-breaking ERCOT demands and Real-Time prices reaching their maximum cap on multiple days in both June and August. In fact, between June and August, ERCOT eclipsed the 2022 maximum demand of 80,148 MW on 47 different days, with this summer's maximum of 85,464 MWs set on August 10. Figure 1 shows the effect of the record breaking heat on spot electricity prices in North Texas in the months of June through August,

With growing energy demand in Texas, there is a need for more power-generating resources to maintain the grid's reliability and to ensure there is a balance between available power supplies and demand. Intermittent sources like wind and solar cannot be dispatched on-demand, making it unreliable during hours when electricity supplies are tight.

This summer, the grid's vulnerability to insufficient reserve margins was demonstrated multiple times after the sun set, solar output dropped to zero, and wind output was low due to insufficient wind speeds across the state. Ancillary services are ERCOT's market mechanism to ensure that power-generating assets are on standby and available to produce electricity on days when solar and wind outputs are low and demand on the grid is high.

Before this summer, there were four market-procured ancillary services: Regulation Up, Regulation Down, Responsive Reserve Service, and Non-Spin Reserve Service. A few years ago, ERCOT and the Public Utility Commission (PUC) decided these four services were insufficient to provide adequate levels of responsive reserves. To address this need, ERCOT added a fifth ancillary service, the first to be added since the market opened in 2002, called ERCOT Contingency Reserve Service (ECRS), which went into effect on June 10, 2023.

ECRS can be seen as an intermediate product between Non-Spin and Responsive Reserve capacity that can respond within 10 minutes to address operational issues. These services secure additional power capacity beyond regular supply and are purchased in the Day-Ahead Market. This new ancillary service is intended to address unforeseen disruptions like generator failures or sudden demand spikes and to provide a rapid response backup to the grid. These contingency reserves are provided by power plants (or other resources such as load) that are capable of quickly ramping up their generation (or reducing their consumption) to help balance the grid during times of reduced reserves.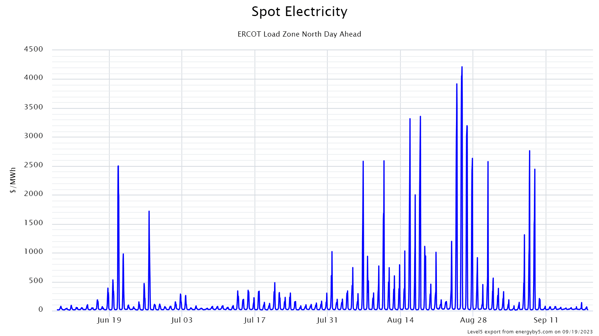 Figure 1: ERCOT Spot Electricity by 5
Who is impacted by the new charge?
All ERCOT customers are affected by this change, as the cost of this new service is applicable to all Load Serving Entities in the ERCOT market. From a retail perspective, most Retail Electric Providers (REPs) are choosing to pass this cost on to their customers and are typically allowed to do so by the Change-in-Law provisions included in most REPs contracts with buyers. The exception is for the PUC-declared protected classes, which are all commercial customers with monthly peak demands less than 50kW and all residential customers. By law, REPs are not allowed to amend the price of protected class customers for these types of changes in the ERCOT market.

How does it appear on an invoice?
These new charges will typically be included on invoices, starting this summer, and should be shown on the invoice as a separate line item. This line item may reference words such as: "ECRS", "ERCOT Contingency Reserves", or something more generic such as, "additional ancillary services."

How is it calculated?
ECRS costs vary by day and by hour. Additionally, these costs are based on the amount of ancillary services procured by ERCOT and the hourly market clearing price for that service. This is similar to the ways the other ancillary services are purchased. ERCOT will allocate this new cost to REPs on a load-ratio share basis, which will likely pass through this cost to customers based on: 1) the customer's specific hourly usage shape or 2) based on the REP's own specific portfolio's costs.

Is this charge variable?
Yes, these charges will vary each month. Additionally, these charges will vary by market conditions, since these charges are based on the Day Ahead Market prices and the amount of ancillary services purchased by ERCOT to meet the power supply needs of the grid.
Reach out to your 5 Energy Advisor if you have any questions on ECRS charges on your invoice.