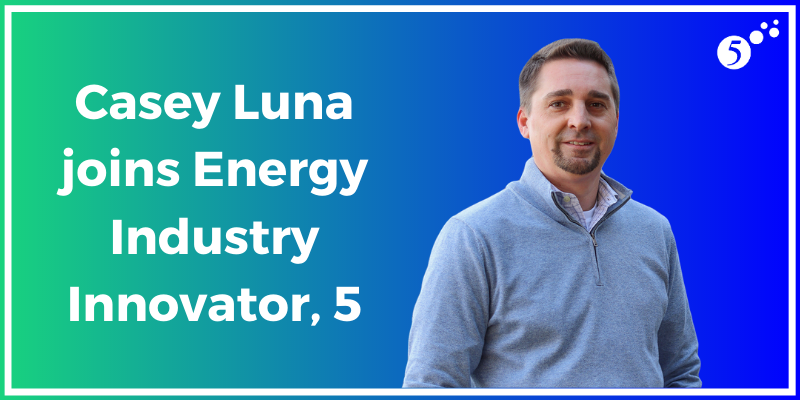 Irving, TX - February 5, 2020
Casey Luna has joined the Irving, Texas-based energy advisory firm 5 as a senior energy advisor. Casey brings his extensive experience in the energy industry, including his work with large commercial real estate developments, REITs, manufacturing facilities, the hospitality industry and more.
"Casey has an incredible breadth of experience, from his start as a pricing analyst for an energy provider to his time as a sales rep and consultant for several broker shops," said Jeff Schiefelbein, Co-Founder and Chief Culture Officer for 5. "He knows what drives client success when it comes to energy procurement, and he understands the equation from the suppliers' perspective as well."
Prior to joining 5, Luna served as a Vice President for Simply Competitive Energy in Dallas, providing energy management services and counsel to electricity and natural gas consumers. He has over 15 years' experience in the energy industry in various positions for Power Brokers USA LLC, Choice Energy Services Retail LP and Green Mountain Energy Company.
Luna received a bachelor's degree in economics from the McCoy College of Business at Texas State University in San Marcos, Texas, and received a Certificate in Management from the Cox School of Business at Southern Methodist University in Dallas.
Connect with Casey on LinkedIn.