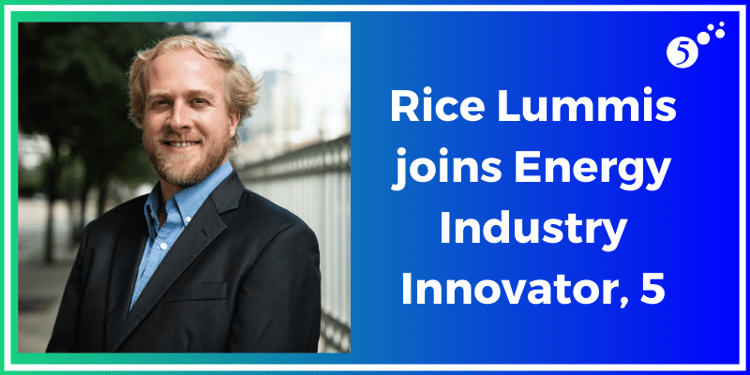 Irving, TX - September 3, 2018
Rice Lummis, has joined the Irving, Texas-based energy advisory firm 5, bringing with him nearly a decade of leading-edge transactional experience in U.S. electricity markets.
"Rice is an extraordinarily gifted commercial energy manager who has a proven track record in executing complex deals on behalf of some of the industry's most dynamic companies," said Jeff Schiefelbein, Co-Founder and Chief Culture Officer for 5. "He is driven to create economic value and deliver tangible results for private and public sector entities through the continuous optimization of their energy assets, which aligns perfectly with our core mission and business."
Prior to joining 5, Lummis worked for APX in San Jose, California, and MP2 Energy (now a subsidiary of Shell Energy North America) in The Woodlands, Texas, where he helped build their demand response and distributed generation business from the ground up.
"I'm thrilled to be working with the incredibly talented and fun group of folks at 5. Their approach to helping people in the US and Mexico navigate energy markets is unique and so important to buyers in today's world," said Mr. Lummis. "It's a great honor to be a part of this team."
He received his Master of Business Administration from the University of California, Davis and his Bachelor of Business Administration from the University of Denver. His graduate work included a summer internship at Pacific Gas & Electric in San Francisco as an Environmental Defense Fund "Climate Corps" fellow. As part of his MBA program, Lummis spent time at the Instituto Tecnológico Autónomo de Mexico in Mexico City studying and expanding his professional network within one of the most exciting electricity markets in the world today.