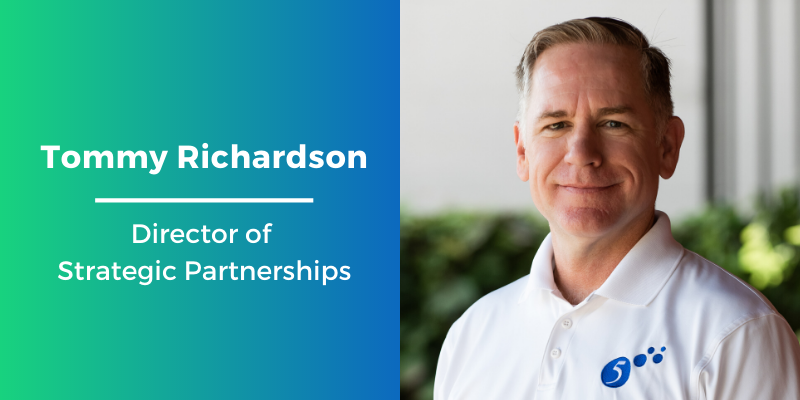 If there were ever a person who was born to serve others through sales, it's Tommy Richardson. Tommy was born and raised in Fort Worth, Texas, and from an early age had a knack for building lasting relationships and making meaningful connections. When he was 6 years old, Tommy was known throughout his neighborhood for going door-to-door and shining shoes for 50 cents per pair. Tommy has also had a life-long love of all things on two wheels.  Growing up, he was into BMX and became an Eagle Scout through a bicycle safety program he developed for his community.

Tommy's love of music also began at an early age. He started playing the trombone in Middle School through the inspiration of the Paul McCartney and Wings' song, "Let 'Em In". He played throughout high school and earned a scholarship to Texas Christian University where he played in the TCU Marching Band.  Tommy ultimately graduated from the University of Texas at Arlington with a degree in Communications and Sociology.

After college, Tommy put his business acumen to work. After a brief stint as an Events Coordinator, he began his business development career by selling advertising for Southwestern Bell over the phone. From there he moved on to different B2B sales roles with Cintas and WorldCom. Tommy finally began his energy career with TXU in 2000 as the market began to deregulate in Texas, working with small and medium sized businesses. Eventually Tommy started developing channel partner relationships that evolved into the foundation of an indirect sales team at several different electricity and gas suppliers across the US.

In 2017, Tommy got a call from one of 5's Partners, Jeff Schiefelbein, with whom he worked with at First Choice Power. Jeff said, "We are looking for someone who can fill a position that I keep calling the 'Tommy Richardson Role' here at 5…you know anyone like that?" Shortly thereafter, Tommy started at 5 as the Director of Strategic Partnerships. And while he certainly fills this role, a better description is that of a "Utility Infielder" because there is no position that Tommy cannot play. His 20+ years of experience in the energy industry have proven to be invaluable as 5 has launched a number of different sales channels under his guidance and leadership.

Tommy, his wife Amy, and dog Hendrix are officially empty nesters now that both of their sons are spread out across the south attending college. Tommy and Amy are incredibly proud of both. This year, he traded in his motorcycle for a mountain bike, which has fostered another outlet for him to stay active and to reconnect with his love of bicycles that began when he was a kid.

Fun Fact:
Tommy has participated in eating competitions and believes competitive eating champion, Joey Chestnut, is one of the most dominant athletes of all-time. For the record, Mr. Chestnut is currently ranked first in the world according to Major League Eating. 
 Tommy's Why: 
"For me it's all about trust. Trust in our leadership, our culture, our expertise and our mission. Our clients and strategic partners feel it too! Often partnerships start off as one thing and as the confidence and trust grows, the nature of the partnership evolves into something deeper and more impactful."