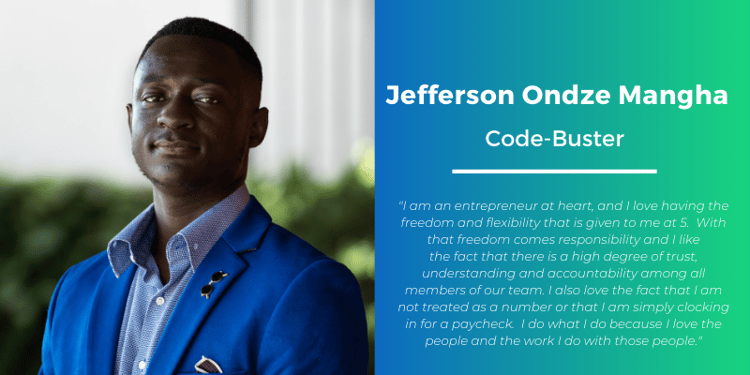 Jefferson grew up in Brazzaville in the Republic of Congo and followed his father to the United States when he was 12 years old. His father's job brought him to the Dallas Metroplex, which is where Jefferson has called home for the last eleven years. Jefferson received a Bachelor's in Communication Technology from the University of Texas at Arlington (UTA) where he is currently studying to receive two additional degrees, an MBA in Business Administration and Management and a Master's of Science in Information Systems.
Jefferson proudly claims that he is a nerd and has always considered himself to be a "science guy" at heart. In fact, he started out as a microbiology major but discovered that he is also an entrepreneur. While in college, Jefferson began building websites for friends and local businesses. He taught himself how to code in a variety of different languages and what began as a hobby evolved into a business while he was an undergraduate.
Jefferson started working full-time at 5 during his senior year at UTA. Today, he is an important part of 5's Development Team, contributing to a unique and ground-breaking energy management platform that offers unique insights into energy markets and the consumption patterns of clients. Most of the time, Jefferson's can be found coding PHP, Python and JavaScript to automate elements of 5's sales and transaction processes.
Jefferson lives in Irving, Texas, with his black Labrador puppy, Rah. When he is not working on code, Jefferson loves performing karaoke to a variety of country music, soul and Afrobeats artists. Kenny Chesney, George Strait, James Brown and WizKid are just a few of his favorites. Jefferson, however, does not plan to give up his day-job for a singing career in the near future.
Jefferson's Why: "I am an entrepreneur at heart, and I love having the freedom and flexibility that is given to me at 5. With that freedom comes responsibility and I like the fact that there is a high degree of trust, understanding and accountability among all members of our team. I also love the fact that I am not treated as a number or that I am simply clocking in for a paycheck. I do what I do because I love the people and the work I do with those people."