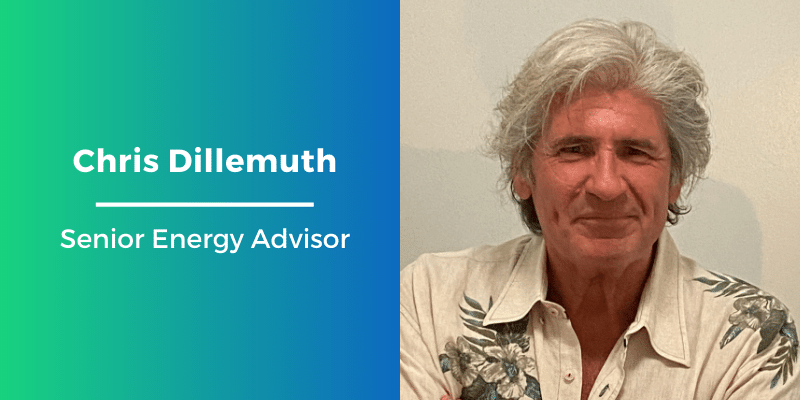 Anyone that has ever met Chris Dillemuth can easily recall his positive outlook, his sincere warmth, and his incredible stories of real-life adventures. Without effort, Chris captivates friends, teammates, and clients when he speaks about his wife and their fishing or scuba diving exploits. Within the energy industry, Chris is a living legend and one of the top client advocates in NYC for over three decades.
When he is not helping clients with their energy management strategies, Chris and his wife Barbara can usually be found on the ocean, or below the surface. For countless years Chris has enjoyed 60 or more scuba dives per year, many occurring in his favorite spot near the Cayman Islands. In addition to his underwater explorations, Chris also enjoys fishing for bluefin or yellowfish tuna. He once fought a 400-pound bluefin for more than 5 hours (and won). Chris loves to teach kids how to fish and sharing his catch with friends, family, and neighbors.
And the "big fish" stories that Chris can tell are not just about fish…. His crowd-pleasing tales of the times he met the likes of Richard Nixon, Harrison Ford, and Chevy Chase are just the tip of the iceberg. Many of these encounters happened as Chris made his way throughout Manhattan, educating large real estate companies and building management firms on best practices for energy risk management.
Chris began his energy career working for Hess Corporation in 1990 and quickly established himself as a leading natural gas advisor and executive account manager for large clients. With the onset of electricity deregulation in the late 90s, Chris eventually managed the company's largest book of natural gas and electric clients throughout the Greater New York City area. Chris continued to expand his service offerings after Direct Energy acquired Hess Corporation in 2014, achieving an exceptional balance of growth and client retention. Chris brings additional value to the clients by focusing on a wide array of energy needs including demand-side strategies, sustainability strategies, and guidance on local law compliance.
Chris Dillemuth has a personality larger than life and his sincere love of helping others and improving the lives of his clients puts him in a true league of his own.
Connect with Chris on LinkedIn.